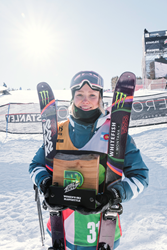 I am so proud of the boys who landed insane runs today. This is one of our most favorite events all year since it started at Dew Tour two years ago. The Team Challenge is a special time for us to ride as a team and to come together and represent one thing - Jossi Wells
BRECKINRIDGE, Colo. (PRWEB) December 14, 2018
Monster Energy congratulates Maggie Voisin on earning third place in women's ski slopestyle at the Dew Tour Breckenridge along with teammates Gus Kenworthy for getting first place with team Atomic in the Ski Team Challenge.
The 2018-2019 ski and snowboard freestyle competition season has officially started with the Winter Dew Tour, which kicked off in Breckenridge, Colorado, on December 13th. The four-day premier action sports festival is a highly anticipated event that features the world's best skiers and snowboarders going head-to-head in slopestyle, modified halfpipe, and street rail events.
Monster Energy athletes were out in full force and competed in the first events of the competition, which included Women's Ski Slopestyle Finals and Men's Ski Team Challenge.
On the women's ski side of things, Voisin (USA) was the first to claim a spot on the Dew Tour podium, as she earned third place in slopestyle. The course was split into three jumps, and four jib sections, which were judged separately on overall impression and then combined for final scores out of 200.
On the jumps, Voisin scored a solid 82.67 on her second run, which consisted of a super smooth right 900 tail grab, switch left 900 mute, and a rodeo 900 Japan. On the jib section, Voisin raised the bar with her technical run which included; switch left 270 on to the flat down rail, a 270 onto the down rail, gap out on to the third elbow and a back swap back 270 on the rainbow box. Judges were impressed with her approach and awarded her an 81.67, which gave her a cumulative score of 164.34, placing her in third.
The final event of the day was Ski Team Challenge. Featuring six teams, the Team Challenge represents endemic ski and snowboard brands that compete against one another on a three-part course that included modified pipe, jib and jumps.
Monster Energy Athletes, Kenworthy and Jossi Wells (Team Captain), joined together on Team Atomic, and took the win today.
Kenworthy was on duty for the jibs, and earned an 83.67 for his clean, technical slides, which helped catapult his team into first place.
"I am so proud of the boys who landed insane runs today," said Wells following the event. "This is one of our most favorite events all year since it started at Dew Tour two years ago. The Team Challenge is a special time for us to ride as a team and to come together and represent one thing. Skiing is such an individual sport and to have this opportunity to build morale is amazing," he continued.
Fellow Monster Energy teammate, Evan McEachran competed on Team Head and helped earn fourth place by scoring a 92.76 with his dizzying array of spins on the jumps. Henrik Harlaut also competed in the event and scored a 76.76 on the jibs for Team Armada, who placed fifth overall.
The action continues tomorrow with Dew Tour Day Two featuring: Ski Modified Superpipe Women's Final, the Snowboard Slopestyle Women's Final, the Gerhard Gross Memorial Race (Snowboard Banked Slalom), Team Challenge Snowboard Final and the Snowboard and Ski Streetstyle Finals.
Download photos for editorial use.
Stay tuned for more winning action from Monster Energy athletes.
For more on Voisin, Kenworthy, Wells, McEachran, Harlaut and the rest of the Monster Energy snowboard and ski team visit http://www.monsterenergy.com. Follow Monster Energy on YouTube, Facebook, Instagram & Twitter.
About Monster Energy
Based in Corona, California, Monster Energy is the leading marketer and distributor of energy drinks and alternative beverages. Refusing to acknowledge the traditional, Monster Energy supports the scene and sport. Whether motocross, off-road, NASCAR, MMA, BMX, surf, snowboard, ski, skateboard, or the rock and roll lifestyle, Monster Energy is a brand that believes in authenticity and the core of what its sports, athletes and musicians represent. More than a drink, it's the way of life lived by athletes, sports, bands, believers and fans. See more about Monster Energy including all of its drinks at http://www.monsterenergy.com.