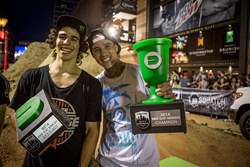 The three runs…you couldn't just go out there, do one good run, and think that you had it. - Kyle Baldock
(PRWEB) August 18, 2014
Monster Energy is proud to congratulate team rider Kyle Baldock for dominating the Dew Tour Dirt Session and teammate Kevin Peraza for taking third. The unique event forgoed the typical "one- run counts" format, opting for a 30-minute jam session where riders would have to lay down three solid runs to even be considered for a top five finish.
Baldock dominated in usual fashion with no issues, firing out his very first run absolutely perfect: a backflip barspin-to-no-hander over the first jump, a 360 double tailwhip-to-barspin on the second, and a double tailwhip-to-barspin on the quarter. From there it was a barrage of 720 barspins, 360 flips, a 360 downwhip-to-whip back, and even a very unexpected flair drop-in on the quarter. He laid down so many wild tricks that it was clear to pretty much everyone that he'd be taking the Dew Cup home to Australia yet again.
Immediately after the event, Baldock was a mile a minute, psyched on the format, and hyped to share the podium with Monster teammate Kevin Peraza.
"The three runs…you couldn't just go out there, do one good run, and think that you had it," said Baldock. I think that's an amazing way to do it! But, Peraza man, he's on another level. He has a style that I would want and it's amazing to just ride next to him."
Dew Tour Portland is a wrap for Baldock, but Peraza continued on riding in the highly anticipated Streetstyle event where he took 6th place.
Visit http://www.monsterenergy.com for more on Baldock, Peraza, and the rest of the Monster Energy athletes in Portland, Oregon. The site is filled with behind-the-scenes photos and updates from the Dew Tour.
###
About Monster Beverage Corporation:
Based in Corona, California, Monster Beverage Corporation is the leading marketer and distributor of energy drinks and alternative beverages. Refusing to acknowledge the traditional, Monster Beverage Corporation supports the scene and sport. Whether motocross, off-road, NASCAR, BMX, surf, snowboard, ski, skateboard, or the rock and roll lifestyle, Monster is a brand that believes in authenticity and the core of what its sports, athletes and musicians represent. More than a drink, it's the way of life lived by athletes, sports, bands, believers and fans. See more about Monster Beverage Corporation including all of its drinks at http://www.monsterenergy.com.