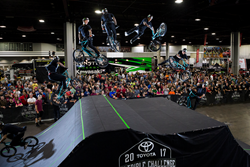 I'm absolutely honored to be the champion of the first ever Toyota BMX Triple Challenge, and I can't wait for next year because I know even more amazing riders will come out and the event will just get better and better - Kyle Baldock
Atlanta, Georgia (PRWEB) February 27, 2017
Monster Energy congratulates Kyle Baldock on being crowned the overall champion of the inaugural three-stop Toyota BMX Triple Challenge. A scaled-down event that's sole focus is to progress the level of tricks possible, the Toyota BMX Triple Challenge brought the best riders in the world to compete in a two jump, winner takes all huckfest.
With a first place win in Anaheim, CA and a second place in Glendale, AZ, Baldock came to the third and final event in Atlanta with an 11-point lead. But, with the unique format of the event that gives points to the Best Trick event winner, the overall championship was really open for several heavy hitters to include Brandon Loupos, Nick Bruce, and Logan Martin to take the win.
Before the event, Baldock wasn't quick to make any predictions on who was going to win.
"I've done the math," he said with a smile on his face. "At the end of the day, I really want to stay consistent the whole way through this and put down the best run I can to get in that top three position. If I can do that, I think I'll win. But, if someone wins this and then gets best trick as well, they could take it. It's pretty much up for anyone right now, so it's time to go out there and get it. Honestly, I have no idea who is going to win, but it is going to be one of the Australians. I guarantee that, (laughs)."
Baldock definitely went out there and sent it. Proving his 720 double whips are anything but a fluke, Baldock stomped a flip barspin-to-whip over the first box and another perfect 720 double whip to lock in a heavy score. But, as he predicted, it was his fellow Australians going hard. Martin's mind-blowing combo of a quad whip over the first box and 720 barspin-catch-barspin is a combo that has never been done back-to-back. With second place locked in and the Best Trick being the potential deciding factor, Martin went out again and pulled yet another 720 barspin-catch-barspin to put his bid in for the extra points. Monster Energy's James Foster put in his own bid with a never been done 360 suicide double barspin to late downwhip. But, it was the relative unknown Jake Leiva who stomped a flip triple tailwhip on his very first try to take the Best Trick win and the extra points Martin was looking for.
After the event, Baldock was beyond hyped, and already looking forward to next year.
"I knew what I had to do, but I didn't think Logan was going to pull out what he did, and that was just over the top, said Baldock. I just knew I had to stay consistent and get in that top three so that was what I was focused on. From the very first event in Anaheim to this one, all of us had to step it up and get out of our comfort zone and send stuff. I mean, Dawid Godziek was sending stuff that I didn't even know was possible and now I'm motivated to go home and learn that stuff, too. I think this is one of the first steps to bring more people into BMX. Being here in front of Supercross fans and BMX fans alike, we get to show what we are about in front of different crowds and show them that they can come out and do this, too. I'm absolutely honored to be the champion of the first ever Toyota BMX Triple Challenge, and I can't wait for next year because I know even more amazing riders will come out and the event will just get better and better."
For more on Baldock, the rest of the Monster Energy BMX team, and the BMX Toyota Triple Challenge events visit http://www.monsterenergy.com. Follow Monster Energy on YouTube, Facebook, Instagram and Twitter. For interview or photo requests contact Kim Dresser.
###
About Monster Energy
Based in Corona, California, Monster Energy is the leading marketer and distributor of energy drinks and alternative beverages. Refusing to acknowledge the traditional, Monster Energy supports the scene and sport. Whether motocross, off-road, NASCAR, MMA, BMX, surf, snowboard, ski, skateboard, or the rock and roll lifestyle, Monster Energy is a brand that believes in authenticity and the core of what its sports, athletes and musicians represent. More than a drink, it's the way of life lived by athletes, sports, bands, believers and fans. See more about Monster Energy including all of its drinks at http://www.monsterenergy.com.
About Feld Entertainment:
Feld Entertainment is the worldwide leader in producing and presenting live touring family entertainment experiences that lift the human spirit and create indelible memories, with 30 million people in attendance at its shows each year. Feld Entertainment's productions have appeared in more than 75 countries and on six continents to date and include Ringling Bros. and Barnum & Bailey®, Monster Jam®, Monster Energy Supercross, AMSOIL Arenacross, Disney On Ice, Disney Live! and Marvel Universe LIVE! More information about Feld Entertainment is available online at http://www.feldentertainment.com.