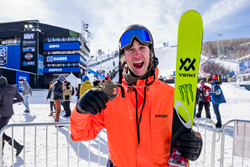 I am so happy on how I skied on my first run. It was really a dream run for me. X Games has been something I have looked up to since I was young and being on the podium is just incredible Alex Bealieu-Marchand
Aspen, Colorado (PRWEB) January 30, 2017
Monster Energy's Alex Bealieu-Marchand came out swinging and stomped his way into third place with an absolutely massive first run. On a gorgeous, brisk day in Aspen, Colorado, 12 of the world's top freeskiers took to the pristine slopestyle course and laid it all on the line for Men's Ski Slopestyle Finals at X Games Aspen 2017.
The 22-year-old Canadian from the province of Quebec, scored a 92.00 for his run, which showcased his technical prowess on the rails and unique style on the jumps.
Bealieu-Marchand's run kicked off with a slew of technical tricks to include: a brebby slide to switch on the first rainbow rail, switch rightside 270 on 270 off of the rainbow rail, 270 on 270 off of the flat down rail, switch cork 450 on 180 off the wall ride, switch right-side double cork 10 Japan, switch leftside double bio 12 safety, and leftside double bio 12 mute.
Following the event, Bealieu-Marchand, was beyond hyped to make the podium and showed his gratitude for his supporter and fans. "I am so happy on how I skied on my first run," said Bealieu-Marchand. It was really a dream run for me. X Games has been something I have looked up to since I was young and being on the podium is just incredible. I couldn't be happier."
"I am just a little bummed I couldn't put down my second run because of a technical problem on my boot, which is a bummer, but things happen in life and I am going to take third place. It is still a dream to be here with the sun in beautiful Aspen. I am so happy and ready to go party at the Monster Energy party tonight and celebrate."
This mark's Bealieu-Marchand fifth X Games Aspen appearance, and first X Games medal.
Conditions on the 1700-foot long slopestyle course were near perfect, and competitors were feeling the sunny day vibes. The upper portion of the course featured three rail sections that led into three jumps, including the money booter at the very bottom. Judges had keen eyes for technical tricks, rail mastery, and flawless spins.
Monster Energy athletes and reigning gold medalist and silver medalist, Jossi Wells and Gus Kenworthy, looked solid throughout the course, but weren't able to put down clean runs. James Woods and Evan McEachran, two other Monster Energy athletes, were poised for medal contention, but had slight bobbles in both of their runs.
"I saw the judges were looking for rail heavy runs and creativity, and that's what I hoped to do," said Kenworthy following the event. "Unfortunately, I just wasn't able to clean up my rails or jumps, but I'm just thankful to be out here."
X Games Aspen 2017 will feature 16 hours of extensive coverage and live content distributed on ESPN, ABC, WatchESPN, WatchABC and the ESPN App throughout the weekend. An additional seven hours of competition will be carried exclusively on the X Games YouTube Channel and hosted on XGames.com. Extensive coverage will also feature across ESPN digital and social platforms, including XGames.com, the X Games Aspen App, and X Games on Twitter, Facebook, Instagram, Snapchat and more.
For more visit http://www.monsterenergy.com and Monster Energy Facebook this weekend to score all the exclusive updates from X Games Aspen 2017 including photos, videos, and contest results as they happen. Follow us on Instagram and Twitter and search #UnleashedAtX for exclusive behind-the-scenes looks in Aspen.
###
About Monster Energy
Based in Corona, California, Monster Energy is the leading marketer and distributor of energy drinks and alternative beverages. Refusing to acknowledge the traditional, Monster Energy supports the scene and sport. Whether motocross, off-road, NASCAR, MMA, BMX, surf, snowboard, ski, skateboard, or the rock and roll lifestyle, Monster Energy is a brand that believes in authenticity and the core of what its sports, athletes and musicians represent. More than a drink, it's the way of life lived by athletes, sports, bands, believers and fans. See more about Monster Energy including all of its drinks at http://www.monsterenergy.com.