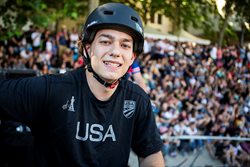 The riders are simply the best in the world. To hold that score the whole time while watching every rider go, and to stay on top—it's unbelievable. - Justin Dowell Monster Army
LOS ANGELES (PRWEB) June 03, 2019
Monster Energy's BMX athletes dominate at FISE in Montpellier, France. Monster Army's Justin Dowell had an incredible weekend at FISE with a win in the UCI BMX Freestyle Park World Cup, and third place in the Spine Ramp the night before. Rounding out the podium spots are Jose Torres who earned the top spot in Spine Ramp, and Pat Casey with first place in Dirt finals. Teammates Moto Sasaki took third place in UCI BMX Flatland World Cup, and Leandro Moreira took second in Dirt.
After qualifying in 10th after the Park Semi Finals, Dowell was one of the first people to ride in the Finals and he set the bar with a score of 91.20. Afterward he anxiously watched as the rest of the heats went down.
"The riders are simply the best in the world, said Dowell". To hold that score the whole time while watching every rider go, and to stay on top—it's unbelievable." He credits doing his signature twix (a simultaneous tailwhip and barspin air) over a channel gap, as well as a cannonball-to-barspin and flair whips in establishing his high score.
The Spine Mini is a classic FISE event that really showcases ramp riding at its purest form. The deck was packed with riders from all over the globe with a variety of styles—making for an incredible contest full of energy. Torres and Dowell returned to the podium for the second year in a row in the FISE Spine Ramp Finals. Torres improved his position this year with the top spot, while Dowell remained in a respectable third place. When describing the scene, Torres said he felt "like a rockstar being on top of a stage with the light shining in front of a crowd," and continued on with, "you don't see events like this anywhere else in the world."
Since its inception in 1997, FISE has become the longest running action sports event in Europe. Its roots are in Montpellier, where the weekend crowd swells to over 600,000 people, and their worldwide stops include Japan, Canada, Hungary, and China. The international reach of FISE attracts the best athletes from around the world.
Download photos for editorial use.
Dowell summed up his great weekend as "only another chapter that leads to Tokyo 2020." Until then, for more on Dowell, Torres, Pat Casey, or Sasaski visit http://www.monsterenergy.com, and follow Monster Energy on Facebook, Instagram and Twitter.
About Monster Energy
Based in Corona, California, Monster Energy is the leading marketer and distributor of energy drinks and alternative beverages. Refusing to acknowledge the traditional, Monster Energy supports the scene and sport. Whether motocross, off-road, NASCAR, MMA, BMX, surf, snowboard, ski, skateboard, or the rock and roll lifestyle, Monster Energy is a brand that believes in authenticity and the core of what its sports, athletes and musicians represent. More than a drink, it's the way of life lived by athletes, sports, bands, believers and fans. See more about Monster Energy including all of its drinks at http://www.monsterenergy.com.