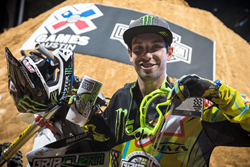 Austin, Texas (PRWEB) June 05, 2015
Monster Energy's Bryce Hudson takes silver in Moto X Step Up X Games Austin 2015. Hudson is one of the working-class heroes of the X Games. He worked his way into the X Games by competing in the less-prestigious FMX series while making his living as a photographer. Hudson had a meteoric rise to fame at X Games Brazil, where he managed to defeat Moto X Step Up legend Ronnie Renner for the gold medal in his X Games debut. He followed that up with a silver medal in the same event at X Games Austin 2014.
The youngest competitor at this year's event, since Moto X Step Up tends to favor crafty veterans, 24-year-old Hudson headed into this year's X Games with very high hopes and was able to take his second consecutive sliver medal.
The eight competitors all made it over the bar pretty easily at 26 and 28 feet, and Monster Energy's Josh Hansen – who made it into Moto X Step Up as an alternate – just clipped the bar on his way down at 30 feet, knocking him out of the competition.
The bar was then moved to 32 feet, and Hansen was quickly joined on the sidelines by Matt Buyten, Tom Parson and Alistair Sayer, none of whom could cleanly clear 32 feet.
The four competitors who managed to clear 32 feet – Hudson, Renner, Libor Podmol, and European Step-Up champ Massimo Bianconcini – then moved on to 33 feet. And again, they all cleared the bar, but Hudson and Renner were the only two to do it on their first of two possible attempts.
At 34 feet, though, none of the first three competitors could get over it cleanly, and Hudson gave such an effort on his second attempt at 34 feet that he landed nose-high, and when the front end slapped down it ripped both his hands off the handlebars, and he went down hard.
Renner failed the first attempt, but he cleared it on his second try. Still, Hudson landed the silver for the second time in Moto X Step Up, and he now has three medals in the treacherous event.
For more on Monster Energy X Games Austin 2015 competing athletes including exclusive photos and daily recaps, check out http://www.monsterenergy.com, http://www.monsterenergy.com/facebook/ and #unleashedatx.
About Monster Energy:
Based in Corona, California, Monster Energy is the leading marketer and distributor of energy drinks and alternative beverages. Refusing to acknowledge the traditional, Monster Energy supports the scene and sport. Whether motocross, off-road, NASCAR, MMA, BMX, surf, snowboard, ski, skateboard, or the rock and roll lifestyle, Monster Energy is a brand that believes in authenticity and the core of what its sports, athletes and musicians represent. More than a drink, it's the way of life lived by athletes, sports, bands, believers and fans. See more about Monster Energy including all of its drinks