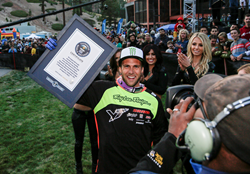 This is the pinnacle of my whole life and career and everything I have dreamt of as a kid and I can't thank Monster and Mammoth and all my other sponsors enough for helping me live the dream Cameron Zink.
Mammoth, California (PRWEB) August 22, 2014
Mammoth was the site of yet another Monster Energy athlete world-breaking victory where Cam Zink stomped an official Guinness World Record for the longest dirt-to-dirt mountain bike backflip launching 100 feet 3 inches from a 15-foot-high dirt ramp to a 25-foot-high landing where he reached speeds of up to 46 mph to beat his previous record.
Going huge on a mountain bike is second nature to Zink, 28, who continues to progress the limitless possibilities by defining the future of mountain biking. He previously landed a 78-foot step-down backflip at one of the world's premier freeride mountain bike events. For today's official Guinness World Record, Zink upped the ante to 100-feet, three inches ensuring authenticity in the set up that he designed and was built by the Mammoth Mountain Bike Park team at Mammoth's Canyon Lodge. Instead of the step-down setup and wood ramp from his previous record, he opted for a more purist approach with a dirt-to-dirt gap jump on level ground with the start of the landing area 80-feet from the takeoff for good measure.
"It's been a long time coming, and that's not just like when we thought of this idea and brought it all to fruition – it's a long time coming from my starting riding so young and then developing as a rider to get the support to make a career out of it, and then getting to a level where I can flip further than anyone and then getting to the level where I have the backing from Monster and then on that level pushing mountain biking where it can actually get on ESPN live," said Cam Zink upon setting the Guinness World Record.
"This is the pinnacle of my whole life and career and everything I have dreamt of as a kid and I can't thank Monster and Mammoth and all my other sponsors enough for helping me live the dream."
ESPN partnered with Monster on this amazing world-record victory and televised it live tonight on ESPN at 9:30 pm ET. For those who don't want to miss the action, you can view Cam Zink's Mammoth Flip presented by Monster Energy on ABC's "World Of X Games" one-hour highlight show airing Sunday, August 24 at 2 p.m. ET.
"Monster Energy congratulates Zink on his world-record triumph that is synonymous with the progressive mindset of our athletes who are the best in the world," said Cody Dresser, Monster Energy Director of Action Sports. "Today's record breaker is monumental for not only growing the sport's exposure, but it will continue to inspire the next generation of riders to go beyond what is possible."
Currently ranked 12th on the 2014 FMB World Tour and the reigning 2010 Freestyle Mountain Bike World Tour champion, Zink helped bring freestyle mountain biking to X Games last year with its debut at X Games Munich 2013, where he placed sixth, and has been among the riders leading the charge to make the event an X Games mainstay.
Check out Zink at the remaining 2014 FMB World Tour Diamond Series events.
Visit monsterenergy.com for more on Zink, and the rest of the Monster Energy team.
About Monster Beverage Corporation:
Based in Corona, California, Monster Beverage Corporation is the leading marketer and distributor of energy drinks and alternative beverages. Refusing to acknowledge the traditional, Monster Beverage Corporation supports the scene and sport. Whether motocross, off-road, NASCAR, BMX, surf, snowboard, ski, skateboard, or the rock and roll lifestyle, Monster is a brand that believes in authenticity and the core of what its sports, athletes and musicians represent. More than a drink, it's the way of life lived by athletes, sports, bands, believers and fans. See more about Monster Beverage Corporation including all of its drinks at http://www.monsterenergy.com.