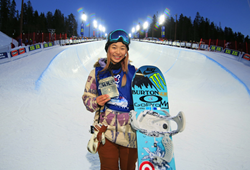 This is so unbelievable. Oslo is such a beautiful place and I'm just so grateful to be here - Chloe Kim
Oslo, Norway (PRWEB) February 26, 2016
Monster Energy congratulates Chloe Kim on her gold-medal win today in Women's Snowboard SuperPipe at the X Games Oslo 2016. Under the setting Norwegian sun Chloe Kim became not only the youngest X Games competitor in history to win three straight gold medals, but also earned the highest score ever awarded to a woman in Snowboard SuperPipe with a 98.00. With another convincing victory in Oslo, at just 15-years-old Kim's unmatched amplitude as well as progressive trick combo's solidified what's becoming common knowledge in the snowboard world —Kim is far and away the best women's halfpipe rider today.
Coming off a huge month in which just days after taking gold at X Games Aspen, Kim scored a perfect 100 on a victory lap at the U.S. Grand Prix in Park City, she then traveled to Norway winning gold again at the Youth Olympic Games just over a week ago. Today's effort seemed only fitting then as the California native once again rewrote history.
Upon an immaculate, albeit shorter SuperPipe (the Oslo Vinterpark Superpipe is a full 47 feet shorter in length than that of Aspen), it became clear that from her initial run Kim would not be contested this evening.
After sitting down on the last hit of her first run, if only because she ran out of pipe, Kim lined up for her second attempt in the Vinterpark SuperPipe with her trademark smile before unleashing a run that left the crowd, judges, and everyone watching around the world in awe. Unloading a massive method on her first hit before launching back to back 1080's, Kim only had room for one more hit, a frontside 540 before running out of real estate.
At the bottom of the pipe a clearly shocked Kim said, "I was very nervous, but I just wanted to send it!"
Earning a score of 96.33 on just a four hit run, ensuing competitors simply could not match her trick selection, amplitude and style throughout the rest of the competition. But, Kim wasn't done yet!
As the final rider to drop on her third and final run, the teen phenom geared up for a victory lap that would make X Games history. Essentially expanding her second run into a bigger method, cleaner grabs on her back to back 1080's and in the end, sneaking in a McTwist for a fifth hit, Kim, who could have rode down the middle of the pipe to victory, instead put down what some are calling the best women's SuperPipe run ever seen in competitive snowboarding. Indeed the judges though so, granting her the single highest score in Women's Snowboard Superpipe history at X Games with a score of 98.00.
Before letting her true emotions surface, Kim simply said, "This is so unbelievable. Oslo is such a beautiful place and I'm just so grateful to be here," that is, before exclaiming — "This is insane!"
What more is to be said about Kim and her impact on women's halfpipe riding? We don't know! Perhaps the obvious — at this point she is riding at a level that is far beyond her fellow competitors and is clearly defining the future of women's snowboard superpipe.
For more information visit http://www.monsterenergy.com this week to score all the exclusive updates from X Games Oslo 2016 including photos, videos, and contest results as they happen. Follow Monster Energy's Facebook, Instagram & Twitter for exclusive behind-the-scenes looks in Oslo.
###
About Monster Energy
Based in Corona, California, Monster Energy is the leading marketer and distributor of energy drinks and alternative beverages. Refusing to acknowledge the traditional, Monster Energy supports the scene and sport. Whether motocross, off-road, NASCAR, MMA, BMX, surf, snowboard, ski, skateboard, or the rock and roll lifestyle, Monster Energy is a brand that believes in authenticity and the core of what its sports, athletes and musicians represent. More than a drink, it's the way of life lived by athletes, sports, bands, believers and fans. See more about Monster Energy including all of its drinks at http://www.monsterenergy.com.