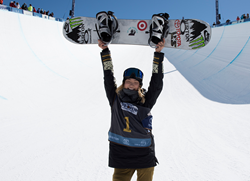 I always feel like I can push myself a little bit more, but I'm just happy to be riding like myself again - Chloe Kim
Vail, CO (PRWEB) March 05, 2017
Congratulations are in order for Monster Energy athlete Chloe Kim as she took the victory in the Superpipe at the 35th annual Burton US Open of Snowboarding. Considered one of the most prestigious events in snowboarding, Kim left little doubt as to her dominance in the sport defending her title from last season and sending off competition season in style.
With spring in the air, the radiant Colorado sunshine greeted the final Superpipe competition of the season with the best Mother Nature could offer affording riders perfect conditions to charge their hardest. Held on the slopes of Vail Mountain in Eagle County, Colorado, a field of international riders gathered for one final go for glory -- the US Open. As the longest running contest in the sport, it truly is "a snowboarder's contest" and a win here certainly holds a different weight
For Kim, it is a special place. It was here the world began to take note of her explosive style when in 2014 at the age of thirteen she came out of nowhere to take third dropping tricks like a switch method, something never before seen in women's competition. Since then her rise to the top of women's halfpipe riding has been nothing short of mesmerizing. For this event, with a continued show of superiority she finished the season as we have come to expect -- on top.
By the time Kim, now 16 steadied herself to drop for her final run she had the contest won. Yet as we have seen before, her victory laps are different. Forgoing stair airs and slashes, Kim spun a massive frontside 1080 tail grab, a cab 720 melon and a frontside 900. Sending off her run with a proper McTwist at the bottom of the pipe, the only thing bigger than Kim's smile was her score. Topping her secure first place 86.8, she nailed an 87.1, proving the common understanding that her toughest competition is simply herself.
"I always feel like I can push myself a little bit more," said Kim regarding her unorthodox victory lap.
She continued, "I'm just happy to be riding like myself again after a few weeks of being off. I took some time at home recently and got to hang out with my puppy before I came out here so that definitely helped," before bursting into laughter.
After her performance, while obvious, there are a couple things worth noting in regards to Kim's snowboarding. First, she goes bigger than anyone else; it's well documented. Two, she has more tricks than anyone else; do the math. And third, her riding style is easily the most fluid of any women's halfpipe rider; ask around. Additionally, when you take in to consideration that for this contest she did three different runs, with three different succession of tricks, a spontaneity rarely seen in halfpipe competitions, to say she is an uncommon rider is an understatement at best. It's attributes such as these that have earned Kim accomplishments like the first female to score a perfect 100 in competition, as well as the only athlete in X Games history to have won three gold medals before the age of 16. That said, with the 2018 Winter Olympics next year in Pyeongchang, South Korea, it stands to reason that the only one who can beat Chloe Kim is Chloe Kim.
For more on Chloe Kim and the rest of the Monster Energy snowboard athletes visit http://www.monsterenergy.com.
Follow Monster Energy on YouTube, Facebook, Instagram and Twitter.
###
About Monster Energy
Based in Corona, California, Monster Energy is the leading marketer and distributor of energy drinks and alternative beverages. Refusing to acknowledge the traditional, Monster Energy supports the scene and sport. Whether motocross, off-road, NASCAR, MMA, BMX, surf, snowboard, ski, skateboard, or the rock and roll lifestyle, Monster Energy is a brand that believes in authenticity and the core of what its sports, athletes and musicians represent. More than a drink, it's the way of life lived by athletes, sports, bands, believers and fans. See more about Monster Energy including all of its drinks at http://www.monsterenergy.com.