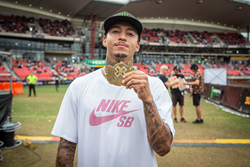 SYDNEY (PRWEB) October 22, 2018
The first-ever X Games spectacle on the Australian continent is a wrap! Monster Energy congratulates its BMX, Moto X, and Skateboarding athletes on a hugely successful weekend competing at X Games Sydney 2018. The world-class team dominated with a total of ten medals across Skateboarding, BMX, and Moto X disciplines by claiming three gold, three silver and four bronze medals. Visit monsterenergy.com for exclusive content on all the team's highlights.
The inaugural X Games Sydney drew massive crowds to Spotless Stadium inside Sydney Olympic Park for an action-packed weekend of sports, youth culture and musical performances in a festival atmosphere. Despite challenging weather conditions and three cancelled motocross events due to rain, the Australian crowd came out in full capacity to celebrate the world's best athletes and musical acts including Melbourne-based music collective The Avalanches and multi-platinum hip-hop artist 360.
With overall attendance estimated at 52,000 spectators across the entire weekend, the Australian X Games debut was one for the history books.
Speaking of history, Monster Energy athletes stoked the Sydney crowd all weekend, including several record-setting performances: BMX athlete Alex Donnachie brought home Scotland's first-ever X Games gold by winning BMX Street. Australian motocross powerhouse Jarryd McNeil defended his Moto X Best Whip gold medal to become the most-winning Australian athlete in X Games history with seven career gold medals. In Men's Skateboard Street, the world's most decorated street skater and Monster Energy team rider Nyjah Huston bested his own record by claiming his ninth career gold medal. Here's the play-by-play of how the action unfolded at X Games Sydney 2018:
Friday started the Games on a high note as Scottish BMX athlete Alex Donnachie claimed BMX Street gold in what was only his second showing at an X Games event. Upsetting the perennial gold medal favorite Garrett Reynolds with a winning score of 84.33, the medal also put him in the history books as Scotland's first X Games medalist. Unfortunately, torrential rainfalls saw the night's Moto X Step Up event cancelled.
On Saturday, BMX podium spots continued as Monster Energy's Kyle Baldock put down a technical BMX Dirt routine featuring an ultra-difficult Cash Roll aerial for a strong silver finish; the tenth X Games medal (6 gold, 1 silver, 3 bronze) for the Gold Coast native. Joining him on the podium was Monster teammate Colton Walker from Minneapolis, who snapped up the bronze medal on his second run.
The second day of X Games Sydney also finally brought Australian fans the motocross action they had been waiting for in this hotbed of the sport. Cheered on by the high-energy crowd, Australian motocross icon Josh Sheehan earned a strong silver Moto X Freestyle finish – his seventh X Games medal – by putting down a high-tech routine crowned by a no-handed double backflip.
Closing out an eventful day, 18-year-old rookie pro Trey Wood faced the world Skateboard Big Air elite and secured bronze by landing a mute 720 over the 70-foot gap followed by a massive backside varial 540 on the quarterpipe. This marks Trey's second consecutive bronze medal in the event after placing third at X Games Minneapolis in July. As a bummer for fans, a thunderstorm cancelled out the night's Moto X Doubles event.
The final day at X Games Sydney 2018 kicked off at noon with the highly competitive BMX Big Air competition. Defending gold medalist and Monster Energy team rider James Foster, who won BMX Big Air at X Games Minneapolis in 2017 and 2018, sent a massive backflip triple tail whip over the 70-foot gap into a quad flip on the 28-foot quarterpipe for 90.33 points and a strong silver finish.
In the Moto X Best Whip event, California's Axell Hodges proved his style and versatility when it comes to fully contorted aerials by claiming his second consecutive Best Whip bronze as the only American in an otherwise all-Australian final. The hometown crowd was on its feet as defending champion Jarryd McNeil from Yarrawonga set a new record: Taking the gold medal with massive one-footed seat bounce Whips, the 27-year-old became the most-winning Australian athlete in X Games history with seven gold medals under his belt.
In the highly contested Moto X Best Trick final, Australian motocross icon Josh Sheehan battled the world FMX elite and challenging course conditions to claim his second medal at X Games Sydney: Landing a perfectly executed no-handed double backflip earned the 32-year-old who competed in every Moto X event at this weekend's X Games a strong 90.66 point score and bronze medal finish. Due to unstable course conditions from rain, the anticipated Moto X QuarterPipe High Air event had to be cancelled.
Overall, the Monster Energy motocross team put on a stellar performance despite the fact that three of the six events were cancelled due to inclement weather. The team claimed podium spots in every Moto X event with a total of one gold, one silver and two bronze medals. Jarryd McNeil now holds 12 X Games medals, while Axell Hodges boosted his count to five medals in what is only his third year at X Games.
Wrapping up the weekend's X Games action with a banger, Men's Skateboard Street saw Nyjah Huston dominate the field of elite street skateboards by posting the day's winning score on his very first run, including technical highlights such as a nollie heelflip to backside lipslide down the big rail. Taking his final run as a victory lap, the 24-year old who has been competing at X Games since age 11 increased his winning score to earn his ninth career Skateboard Street gold and 15th overall X Games medal, making him the most decorated street skater in the event's history.
Monster Energy also brought in noncompeting Monster Energy athletes and personalities to meet and greet with fans at X Games Sydney. Currently sidelined by an injury, four-time X Games gold medalist and Australian motocross trailblazer Jackson "Jacko" Strong held it down behind the mic all weekend commentating the Moto X action on the official X Games live stream. Also putting their signature spin on live broadcasts, Luke "Dingo" Trembath hosted Facebook live joined by Blake "Bilko" Williams, while Jeremy "Twitch" Stenberg FB Live Motocross. Mingling with fans on-site were mountain bike icon Troy Brosnan and Australian wakeboard rider Harley Clifford.
Download photos for editorial use.
For X Games fans in the United States who missed the action, four hours of event recap coverage will air on ABC as part of the World of X Games series, beginning Sunday, October 28. Fans can also follow the latest news and highlights across ESPN digital platforms, including XGames.com and X Games pages across Twitter, Facebook, Instagram, Snapchat and more.
Score all the exclusive updates from X Games Sydney 2018 including photos and contest results at http://www.monsterenergy.com. Follow Monster Energy on YouTube, Facebook, Instagram & Twitter, and watch the official Monster Energy hashtag #unleashedatx on social media.
About Monster Energy
Based in Corona, California, Monster Energy is the leading marketer and distributor of energy drinks and alternative beverages. Refusing to acknowledge the traditional, Monster Energy supports the scene and sport. Whether motocross, off-road, NASCAR, MMA, BMX, surf, snowboard, ski, skateboard, or the rock and roll lifestyle, Monster Energy is a brand that believes in authenticity and the core of what its sports, athletes and musicians represent. More than a drink, it's the way of life lived by athletes, sports, bands, believers and fans. See more about Monster Energy including all of its drinks at http://www.monsterenergy.com.