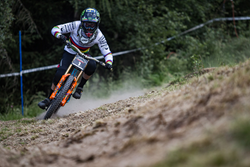 It's hard to feel like you're really pushing it, but obviously my run was good enough so I'm happy with it - Danny Hart
Innsbruck, Austria (PRWEB) June 25, 2017
Monster Energy's Danny Hart took home the win at the Crankworx Downhill in Innsbruck, Austria at the third round of the Crankworx World Tour where he beat a stacked field of world-class competitors.
The reigning World Champion bested a talented field to take home gold in dry, dusty conditions on a track that racers were having trouble keeping speed on.
"To go into a run on that track is difficult," said Hart. It's really hard not to override this track, especially in a race. You want to be giving it full beans, but it's hard to do that because the track is so rough and blown out. It's definitely a tough course. It's hard to feel like you're really pushing it, but obviously my run was good enough so I'm happy with it."
Covered in fresh, loamy dirt, the track bedded in over the week and reminded most riders of a slightly less steep version of the legendary Val Di Sole, Italy World Cup track. With a three for three track records so far on downhill tracks, riders are looking forward to racing the penultimate round in Whistler, Canada in August.
Joining Hart on podiums this week at Crankworx was Monster Energy teammate Mitch Ropelato (USA) taking second at the Pumptrack challenge on Friday evening. In what was some of the tightest pump track racing in recent memory, the young American battled his way to the final heat wearing lederhosen and a borrowed helmet after having hit his head hard enough the week before to decommission his own.
"I struggled for the first few runs and picked up the slack to get through the corners and straights pretty good," said Ropelato. There's a lot of people behind me, and I wish I could take the credit, but I have a lot of people who support me out here and I have to thank them all. They know who they are, thanks everyone!"
Monster Energy athlete, Sam Reynolds (GBR) also took home third place after a long podium drought in the Dual Speed and Style contest. This event stacks racers against freestyle riders as a combination of both race speed and tricks, which are required to take home the win. With two judged trick jumps on track, each is worth a potential total of 5% of the fastest qualifying time, making a pure race run a losing bet. As a former Slopestyle rider, Reynolds came in with a distinct advantage this week.
"A little bit of a comeback after a few years off of the speed and style I thought I'd come out and give it a try so why not! Just doing it for, "The Fest boys", proving that we're "real" athletes," said Reynolds. "I kept it pretty simple in my last run to be honest, a 360 one foot X and a flip no hand. Not the best tricks, but I was keeping it clean and going for some speed. It paid off."
After a sweep of the two European Crankworx Downhill events, Monster Energy downhill racers will ride the momentum into the next stop of the World Cup in La Massana, Andorra next weekend.
For more on Hart, Ropelato, Reynolds and the rest of the Monster Energy team visit monsterenergy.com, and make sure to follow Monster Energy's Facebook, Instagram & Twitter for exclusive updates.
###
About Monster Energy:
Based in Corona, California, Monster Energy is the leading marketer and distributor of energy drinks and alternative beverages. Refusing to acknowledge the traditional, Monster Energy supports the scene and sport. Whether motocross, off-road, NASCAR, MMA, BMX, surf, snowboard, ski, skateboard, or the rock and roll lifestyle, Monster Energy is a brand that believes in authenticity and the core of what its sports, athletes and musicians represent. More than a drink, it's the way of life lived by athletes, sports, bands, believers and fans. See more about Monster Energy including all of its drinks at http://www.monsterenergy.com.