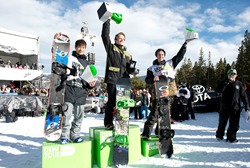 "I'm really excited for this winter. "To have fun, progress, ride more pow, and do more soul shredding." Jamie Anderson, Olympic Gold Medalist
Breckenridge, CO (PRWEB) December 15, 2014
Monster Energy congratulates snowboard team riders for their amazing performances at the 2014 Breckenridge Dew Tour Mountain Championship stop. Taylor Gold took first place in Men's Snowboard Superpipe, Jamie Anderson took first place in Women's Snowboard Slopestyle and Chloe Kim bagged second place in Women's Snowboard Superpipe.
Taylor is starting off this season as the dominant force in Superpipe with back-to-back wins, with a first place finish last week at the US Grand Prix in Copper Mountain, CO in Men's Snowboard Halfpipe, and his win this weekend at the Breck Dew Tour.
Gold's top tricks included a massive Method on the first hit, a frontside 1260, amazing backside double Michalchuck, air to fakie, and a cab 1080 into a frontside 1080 for a 90.50, proving to be the run that couldn't be touched.
Teammate Jamie Anderson continues with her usual mastery of Slopestyle, marking her third consecutive win at the Dew Tour and first podium of her season.
Kicking her run off with a backside bluntslide on the first rail feature, and a tailslide to 270 on the second, Anderson displayed some technical rail prowess. She followed up that with her trademark backside 540 and cab 720 on the first two jumps, moving into a cab tailslide to 270 out on the rainbow rail. Anderson then dropped a switch backside 540 and frontside 720 on the last two jumps.
Today's win wasn't a walk in the park for Anderson, as she had been dealing with a rib injury since before qualifiers, two days prior. "It was so hard," Anderson remarked. "Already dealing with an injury dampens your spirit, so that was tough." If a rib injury wasn't enough, the women had to compete at 2:30 pm, not the most ideal time of day, as the sun starts to dip and the shadows flatten out the light. "Once it hit 2 o'clock, it was totally shadowed, and the boys had been riding the course so it was totally hammered. But perseverance," beamed Jamie.
The judges were clearly enamored with her trick selection, awarding her a 96.25. Fresh off her third straight Dew Tour win, Jamie discussed her season. "I'm really excited for this winter," the Olympic gold medalist said. "To have fun, progress, ride more pow, and do more soul shredding."
At just 15, Chloe Kim is proving to be one of the most progressive and consistent woman riders in the world, narrowly missing first place in Women's Snowboard Superpipe with a score of 95.00 next to the winning score of 95.50. Her winning run consisted of a huge switch method on the fist hit, to cab 5, switch back 5, cab 7, and front 9 into a McTwist.
"It's a great way to start the season, and this year is going to be so fab," said Chloe. "I am so happy how everything turned out."
Visit monsterenergy.com for more on Gold, Anderson, Kim, and the rest of the Monster Energy athletes at the Dew Tour. The site is filled with photos and updates from the Dew Tour.
###
About Monster Beverage Corporation:
Based in Corona, California, Monster Beverage Corporation is the leading marketer and distributor of energy drinks and alternative beverages. Refusing to acknowledge the traditional, Monster Beverage Corporation supports the scene and sport. Whether motocross, off-road, NASCAR, BMX, surf, snowboard, ski, skateboard, or the rock and roll lifestyle, Monster is a brand that believes in authenticity and the core of what its sports, athletes and musicians represent. More than a drink, it's the way of life lived by athletes, sports, bands, believers and fans. See more about Monster Beverage Corporation including all of its drinks at http://www.monsterenergy.com.