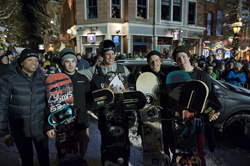 Breckenridge, Colorado (PRWEB) December 13, 2016
Monster Energy's Darcy Sharpe and Zak Hale earned first and third place spots on the podium in Snowboard Street Style at the Dew Tour Breckenridge. This was Sharpe's fourth consecutive victory where he was able to secure the win in the middle of downtown Breckenridge in front of a large crowd gathered on Washington Street where fans witnessed the world's best street riders battle it out for first place.
Going into the event Sharpe was uncertain of the outcome. Not only going against the four-peat odds, but also facing heavy competition. In the mix of competing athletes were fellow teammates Chris Grenier and Hale. What elevated Sharpe and put him in the top spot were his crowd-pleasing tricks such as a backflip over the open-ended dumpster and then backing it up with a Half-Cab nose press to front flip off the picnic table jib.
Sharpe also won the inaugural Dew Tour Team Challenge on team Burton, with Mark McMorris and Terje Haakonsen who was the team captain, where six of snowboarding's best board brands were invited to take on the first-ever Team Challenge that combined multiple disciplines to declare one overall champion team on a two-part slopestyle course featuring a big air jump and four rail zones.
Sharpe was to take on the rails and McMorris the jumps, but intense winds and steady snowfall throughout the weekend caused the jump to be cancelled, which resulted in both teammates having to compete in the Slope Style Jib event.
With his technical skills in full force Sharpe ruled the rails with tricks like gap to switch frontside bluntside 270 out, cab 270 in 270 out, pole jam to frontside bluntside 270 out of the Toyota cage, and on the final rail he went backside tailslide while grabbing indy, which was enough to maintain the top position and pass the torch to McMorris who also threw down a solid run and clenched the win for their team.
The Dew Tour Women's Snowboard Slope Style Jump event ended up being canceled due to extreme wind and heavy snowfall. This only left Jamie Anderson one option, which was to take on the Slope Style Jib course and win in order to go home with a first-place trophy. Jamie did just that. With a big gap to front side 270 on the down rail and a super confident 50-50 pole jam to the top of the Toyota cage with a stale fish off. The turn of events with the Slope Style Jump Event being canceled was a perfect opportunity for Anderson to showcase her above and beyond rail skills. She not only set the bar within the competition, but also showcased that she remains one of the best and most well rounded women's snowboarders in slope style today.
The Dew Tour Breckenridge 2016 has concluded, but this is just the beginning of competition season for the Monster Energy athletes.
For more on Sharpe, Hale and Anderson visit http://www.monsterenergy.com.
###
About Monster Energy
Based in Corona, California, Monster Energy is the leading marketer and distributor of energy drinks and alternative beverages. Refusing to acknowledge the traditional, Monster Energy supports the scene and sport. Whether motocross, off-road, NASCAR, MMA, BMX, surf, snowboard, ski, skateboard, or the rock and roll lifestyle, Monster Energy is a brand that believes in authenticity and the core of what its sports, athletes and musicians represent. More than a drink, it's the way of life lived by athletes, sports, bands, believers and fans. See more about Monster Energy including all of its drinks at http://www.monsterenergy.com.