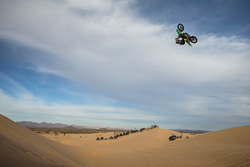 Corona, California (PRWEB) January 17, 2017
Monster Energy, the official energy drink partner of X Games, is proud to announce its team of world-class athletes ready to compete at X Games Aspen 2017 at Buttermilk Mountain in Aspen, Colo. All the action gets underway January 26-29.
The snowsports world will soon gather in the heart of the Rocky Mountains as Winter X Games returns to the storied mountain destination for its 16th consecutive year for the world's premier action sports competition on snow with live coverage on ESPN and ABC. The 2017 event will again feature action sports competitions, world-class musical performances and a festival village.
Monster Energy's unrivaled roster of snowboard, free ski, snowmobile, and new for this year, BikeCross athletes are ready to compete for fame, fortune and everlasting X Games glory.
X Games is the height of winter competition, and as such, athlete invites are few and far between. This year the invitations were limited to even less athletes in an effort to keep the contest level elite. Key Monster Energy athletes to keep an eye on include:
In BikeCross, Doonies3 star Axell Hodges will compete in the inaugural event. Hodges, who made his X Games debut at X Games Austin 2016 walked away with silver in Moto X Best Whip and is looking to add another medal this year in the new BikeCross event on snow.
In men's Ski SuperPipe, David Wise, three-time X Games gold medalist—looks to return to the podium. And never count out multi-discipline threat and Olympic medalist Gus Kenworthy, who took his first-ever X Games medal in men's Ski SuperPipe last year taking a silver medal.
On the Snowboard SuperPipe side, Olympic gold medalist and last year's X Games Oslo silver medalist Iouri Podladtchikov looks to cash in again. Joining Podladtchikov is 18-year-old Japanese Ayumu Hirano, who is coming in strong after taking his first gold medal at X Games Oslo last year where he became the first Japanese rider to win gold.
On the women's side, unbeatable and reigning gold medalist Chloe Kim will be defending her title and going for her fourth consecutive X Games gold medal after Aspen in 2015 and 2016 and Oslo in 2016. Kim earned her first X Games medal at age 13 and is the only X Games athlete ever to win three gold medals before age 16. A tri-lingual, first-generation American, she is the youngest member of the U.S. Snowboard Halfpipe Team.
Snowmobile Snocross begins and ends with one name, Tucker Hibbert. The Minnesota-resident has dominated the past nine X Games events earning gold in all.
In Snowmobile Freestyle Monster Energy's Joe Parsons, Heath Frisby, Cory Davis and Brett Turcotte are all jockeying for a position on the podium. Parsons is the most decorated snowmobiler in X Games history and also has the second-most X Games winter event medals in history so he will be a tough competitor to beat.
This year X Games Aspen brings back the Snowmobile Best Trick event where Parsons and Frisby took silver and bronze at X Games Aspen 2013. They are ready to double up again on the podium and both have been working hard on exciting and progressive new tricks. After making history in 2012 in Snowmobile Best Trick by pulling the first-ever snowmobile front flip in competition, Frisby is going for another never-been-done trick– a double back flip in hopes to re-write history.
In Ski Big Air Henrik Harlaut is looking to medal again after taking gold at X Games Oslo in Ski Big Air. Make sure to also look out for Harlaut's Monster Energy teammates Luca Schuler and James Woods.
Jossi Wells, a five-time X Games medalist from three different disciplines makes him one of the most versatile skiers on the planet. In both 2012 and 2013 he competed in all three freestyle ski disciplines at X Games Aspen – Slopestyle, SuperPipe, and Big Air. Wells won his first X Games gold medal in 2016 for his Slopestyle performance and is set to go for gold again. Also competing in Ski Slopestyle is Kenworthy who took silver in Ski Slopestyle in 2016, Woods, Harlaut, Alex Beaulieu-Marchand and Evan McEachran.
In 2016 Max Parrot took gold in Snowboard Big Air in Aspen, and silver in Oslo, and made a little history along the way. The Canadian rider who is widely known for his progressive riding landed a Cab Triple Cork 1800, a spin never before seen in competition. That's five full rotations in case you are counting. Make sure to also look out for Ståle Sandbech, Sven Thorgren and Darcy Sharpe. The four will also compete in Snowboard Slopestyle.
When it's time for the Women's Snowboard Slopestyle contest, all eyes will be on 11-time X Games medalist and Olympic gold medalist Jamie Anderson as she looks to cement her place among the X Games greats this year. Anderson will also compete in Women's Snowboard Big Air with Klaudia Medlova.
When it's the women's freeskiers turn on the slopestyle course, Emma Dåhlstrom who took bronze last year at X Games Oslo hopes for a return to the podium, and former medalist Maggie Voisin is ready to dominate after taking some time off for an injury.
In Women's Ski SuperPipe look out for Cassie Sharpe who will be looking to hit the podium again after taking her first X Games medal (gold) at X Games Oslo 2016.
ESPN and ABC will televise a combined 16 hours of live X Games Aspen competition. Additional competition, music and behind-the-scenes content will be carried on ESPN3 as well as the latest coverage across ESPN digital platforms, including XGames.com, X Games app, X Games pages across Twitter, Instagram, Facebook, Tumblr and more.
For more visit http://www.monsterenergy.com and Monster Energy Facebook January 26-29 to score all the exclusive updates from X Games Aspen 2017 including photos, videos, and contest results as they happen. Follow us on Instagram and Twitter and search #UnleashedAtX for exclusive behind-the-scenes looks in Aspen.
About Monster Energy
Based in Corona, California, Monster Energy is the leading marketer and distributor of energy drinks and alternative beverages. Refusing to acknowledge the traditional, Monster Energy supports the scene and sport. Whether motocross, off-road, NASCAR, MMA, BMX, surf, snowboard, ski, skateboard, or the rock and roll lifestyle, Monster Energy is a brand that believes in authenticity and the core of what its sports, athletes and musicians represent. More than a drink, it's the way of life lived by athletes, sports, bands, believers and fans. See more about Monster Energy including all of its drinks at http://www.monsterenergy.com.