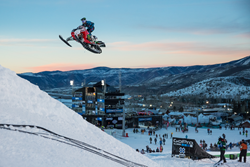 'Me and Heath ended up 1 and 2. Super pumped — if I am going to lose to anyone, I am going to lose to Heath or Joe.' - Cory Davis
Aspen, Colo (PRWEB) January 25, 2015
Monster Energy congratulates athletes Heath Frisby and Cory Davis, who took gold and silver in Snowmobile Long Jump at X Games Aspen 2015 in a heated gold-medal match up.
Although Frisby fell short of a new world record to beat 166'9", he soared 164'11" to mark his 10th career X Games medal with three of them being gold. Tonight was his first gold medal in Long Jump.
Davis, a versatile snowmobiler with talents across many disciplines, earned a bronze in Thursday's Snowmobile Speed & Style event and clinched his second consecutive silver medal in Snowmobile Long Jump, bringing his overall medal count to six. Upon battling into the finals, he soared 160'5" on his second attempt, which wasn't enough to earn his first gold or beat his teammate Frisby.
"Me and Heath ended up 1 and 2," said Davis. "Super pumped — if I am going to lose to anyone, I am going to lose to Heath or Joe. I was bummed to see Joe go out. We really wanted to be 1, 2 and 3 on the podium tonight, but I am stoked man. He has his 10th medal and I have my sixth, so it was a really good night."
Snowmobile Long Jump is an event that is easy to understand and love: travel as far as possible from takeoff to landing, with the biggest jumps determining the podium finishers. It's a head-to-head battle, with each rider getting two chances to advance to the next round. Sled set-up, traction on the run up, and speed all play a huge part for the competitors' ultimate distance.
Check out http://www.monsterenergy.com and http://facebook.com/monsterenergy for more on Frisby, Davis and the rest of the Monster Energy team as they compete in X Games Aspen 2015. The site is loaded with photos and videos straight from Aspen. Follow us on Instagram and Twitter and search #UnleashedAtX for exclusive behind-the-scenes looks in Aspen.
###
About Monster Beverage Corporation:
Based in Corona, California, Monster Beverage Corporation is the leading marketer and distributor of energy drinks and alternative beverages. Refusing to acknowledge the traditional, Monster Beverage Corporation supports the scene and sport. Whether it's motocross, off-road, NASCAR, BMX, surf, snowboard, ski, skateboard, or the rock and roll lifestyle, Monster is a brand that believes in authenticity and the core of what its sports, athletes and musicians represent. More than a drink, it's the way of life lived by athletes, sports, bands, believers and fans. See more about Monster Beverage Corporation, including all of its drinks, at http://www.monsterenergy.com.