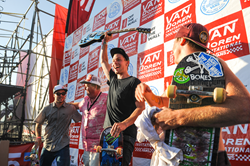 Huntington Beach, CA (PRWEB) August 03, 2015
Monster Energy congratulates team rider Ben Hatchell on taking first place at the Van Doren Invitational 2015 during the Vans Pro Bowl on the sand in Huntington Beach on Saturday where thousands of fans watched the world's best park riders go head-to-head in the all-cement showdown.
Hatchell always skates fast and goes big with great technical lines, but took it to a whole new level at the action-packed bowl contest where the ripper took the $25,000 win with a mind-blowing run in the finals, crowning him the champion.
Hatchell's stand out moves on the back wall included a huge 540, a front feeble front revert, a kick flip frontside air, stale fish 360 and a full Cab disaster revert. On the Vans wall his bag of tricks included a half Cab nose grind to fakie, a blunt kick flip and a kick flip stale fish. The 25-year old also did a full Cab back lip on the bank wall and a gap to lip slide on the spine while cementing his victory over Brazilian Pedro Barros and an international A-list of park and bowl skaters.
This win marks Hatchell's amazing second Van Doren Invitational title in only three years, since winning the inaugural Van Doren Invitational in 2013.
For more on Hatchell and the rest of the Monster Energy team visit http://www.monsterenergy.com. For more information, interview or photo requests contact Kim Dresser at (949) 300-5546 or kim.dresser(at)indiepragency(dot)com. To see the action go to http://www.vansusopenofsurfing.com/2015-skate.
###
About Monster Energy
Based in Corona, California, Monster Energy is the leading marketer and distributor of energy drinks and alternative beverages. Refusing to acknowledge the traditional, Monster Energy supports the scene and sport. Whether motocross, off-road, NASCAR, MMA, BMX, surf, snowboard, ski, skateboard, or the rock and roll lifestyle, Monster Energy is a brand that believes in authenticity and the core of what its sports, athletes and musicians represent. More than a drink, it's the way of life lived by athletes, sports, bands, believers and fans. See more about Monster Energy including all of its drinks at http://www.monsterenergy.com.