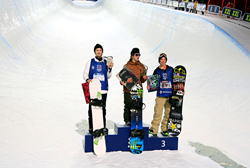 It's been a goal of mine to win gold at X Games, and I'm happy to be the first Japanese rider to do it - Ayumu Hirano
Oslo, Norway (PRWEB) February 26, 2016
Monster Energy congratulates Ayumu Hirano and Iouri Podladtchikov on their incredible performances tonight at the Men's Snowboard SuperPipe event at the X Games Oslo 2016. To a sellout crowd of over 5,000 enthusiastic fans it was Japan's Hirano who threw down the most spectacular run of the night taking his first gold at X Games Oslo. At just 17-years-old, not only was this a personal best for Hirano, but it was also the first gold medal awarded to a Japanese athlete at X Games. Olympic gold medalist Podladtchikov claimed his third X Games silver.
Under the bright lights of the Oslo Vinterpark Superpipe crispy winter weather provided not only perfect conditions for progressive snowboarding, but an electric atmosphere for the field of veteran and fresh faced riders alike. Yet, from the start it was Hirano who presented the rest of the competitors a challenge that would ultimately not be overcome.
Hirano came out firing his very first run setting the tone with a ride down the Superpipe that was more reminiscent of being shot out of a cannon than a strategic calculation. Throwing a cab 1440 double cork is a feat in itself up against fellow Monster energy teammate Podladtchikov, the only other competitor to land the trick in competition, but to commit to it on your first hit is another story altogether. Yet, that's exactly what Hirano did chucking the inverted spin with uncommon style, before setting up for the rest of his run. Showcasing other technical tricks like a switch double alley pop backside rodeo as well as an incredibly stylish frontside 540 with a bucked out Japan grab, Hirano made it clear that everyone was going to have a tough time rising to his level tonight. That included odds on favorite Podladtchikov.
Podladtchikov, who came into the event as the top qualifier steadily trailed Hirano all evening due in part to his inability to put down the cab 1440. Yet, with a massive frontside 900 tail grab, a backside 1260 double cork and a lofty cab 1080 double cork with a truck driver grab Podladtchikov earned an impressive 88.00 on his initial run, enough for silver.
Podladtchikov himself confessed that it would have been hard to beat Hirano this evening stating, "That kid threw down a clean and beautiful run."
But what he should have said is "runs" because Hirano put down the same one three times in a row, each arguably better than the last. It was his second however that the judges deemed victorious granting him a 94.66, a score that was hardly contended all night.
"It's been a goal of mine to win gold at X Games, and I'm happy to be the first Japanese rider to do it," said the humble Hirano.
Struggling for an explanation he summed it up best saying simply, "I was on a roll tonight."
At just 17-years-old and with the cool and collected demeanor of a seasoned veteran, not to mention a science-fiction level talent, the young rider is showing what many have been speculating for years now — that Ayumu Hirano is the future of the snowboarding as far as Superpipe goes.
For more information visit http://www.monsterenergy.com this week to score all the exclusive updates from X Games Oslo 2016 including photos, videos, and contest results as they happen. Follow Monster Energy's Facebook, Instagram & Twitter for exclusive behind-the-scenes looks in Oslo.
###
About Monster Energy
Based in Corona, California, Monster Energy is the leading marketer and distributor of energy drinks and alternative beverages. Refusing to acknowledge the traditional, Monster Energy supports the scene and sport. Whether motocross, off-road, NASCAR, MMA, BMX, surf, snowboard, ski, skateboard, or the rock and roll lifestyle, Monster Energy is a brand that believes in authenticity and the core of what its sports, athletes and musicians represent. More than a drink, it's the way of life lived by athletes, sports, bands, believers and fans. See more about Monster Energy including all of its drinks at http://www.monsterenergy.com.