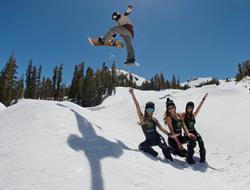 Corona, Calif (PRWEB) April 19, 2016
Monster Energy presented Snowboy Production's Holy Bowly – An International Gathering of Creativity and Flow, in Mammoth this year where the now-iconic event returned after taking a one-year hiatus. The weeklong snowboard bowl event commenced yesterday featuring some of the best snowboarders in the world, riding some of the most amazing and diverse transitional snow features ever created.
For the past five years, the Holy Bowly has been regarded as one of the most anticipated events in snowboarding where pro snowboarders gather for a weeklong dream session in a private snowpark with unique features similar to a skatepark. As host for 2016 to the fourth Holy Bowly, Mammoth did not disappoint with their California transition-based park where a broad group of snowboarders ranging from street to park riders converged to shred the terrain park with massive bowl-inspired features. With the set up being over double the size of the prior Holy Bowly course in Park City, Mammoth definitely lived up to their name and hosted an incredible event including a near replica of Mammoth's Volcom Brother's Skate Park Cradle feature (a massive over-vert section). Prior to Park City's Holy Bowly, the first two events were in Japan where the Bowl aesthetic was first conceived and created.
Monster Energy athletes Danny Kass, Zak Hale, Harrison Gordon, Chris Grenier, Dylan Thompson, Luke 'The Dingo' Trembath, Jossi Wells and the Monster Energy girls represented at the invite-only event. On the final day the public was invited to join in the skate-inspired fun and rip the features while celebrating another epic winter at Mammoth Mountain Resort.
The Holy Bowly hosted après-shred festivities at Rafters Restaurant & Lounge where Titty Fish performed. Comprised of enigmatic snowboard legends Jamie Lynn and Wes Makepeace, the two create credible, sincere and original, cigarette-laced rock n' roll with lyricism conjured from tales of the road.
For more information on the Holy Bowly visit: http://snowboyproductions.us/, #holybowly. For more information on Kass, Hale, Gordon, Grenier, Thompson, Trembath and Wells visit http://www.monsterenergy.com. Follow Monster Energy's Facebook, Instagram & Twitter.
###
About Monster Energy
Based in Corona, California, Monster Energy is the leading marketer and distributor of energy drinks and alternative beverages. Refusing to acknowledge the traditional, Monster Energy supports the scene and sport. Whether motocross, off-road, NASCAR, MMA, BMX, surf, snowboard, ski, skateboard, or the rock and roll lifestyle, Monster Energy is a brand that believes in authenticity and the core of what its sports, athletes and musicians represent. More than a drink, it's the way of life lived by athletes, sports, bands, believers and fans. See more about Monster Energy including all of its drinks at http://www.monsterenergy.com.
About Snowboy Productions:
Started in 1997 by Krush Kulesza, Snowboy Productions has grown from a great NW based story, to one of the most respected and innovative event production companies in the world. From the global reaching appeal of the Downtown Throwdown and the Holy Bowly to regionally focused happenings like Lords of Seatown and the Near Canada Open, Krush and his crew have continued to supply the boardsport world with a steady diet of creative, inclusive and iconic events for other to follow. Any season, any surface, Snowboy Productions is the link to all things shred…join the revolution.