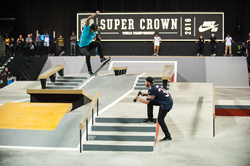 Los Angeles, California (PRWEB) October 03, 2016
Monster Energy's Nyjah Huston walked away with the trophy for second place and Australia's Shane O'Neill took the win at the SLS Nike SB Super Crown World Championship in Los Angeles.
Skateboard fans around the world were tuned in to watch the most heated finals in Street League Skateboarding history tonight. In front of an energetic crowd at sold-out Galen Center at USC in Los Angeles, the eight highest-ranking pro skateboarders on the 2016 Street League Skateboarding Nike SB World Tour battled it out for the title of 2016 SLS Super Crown Champion.
A worthy finale to a phenomenal championship season, tonight's Super Crown Championship added an incredible twelve(!) new Nine Club Scores – for tricks above the 9.0-point benchmark – to SLS history. All eight competitors brought their A-game, and adding to the challenge, the course at Galen Center offered none of the tall gaps and huge rails that are Huston's forte.
Instead, ramp builders at California Skateparks had decked out the course with a variety of bumps, ledges, and rails that favored technical tricks and an eye for transfers between obstacles. Creativity, consistency, and technical skills – plus several Nine Club scores – were the keys to winning in Los Angeles tonight.
Right from the start, the pressure boiled at World Championship level when SLS rookie Chris Joslin posted a perfect 9.0-point score on the very first Run of the night. Known to thrive under pressure, Huston also put together a flawless Run, including backside 180 to backward nosegrind off the bump and down the hubba, Caballerial to frontside boardslide the rail, 360 kickflip, half Cab kickflip and fakie kickflip over the bump-to-bump, backside 5-0 revert and halfcab crooked on the ledge, and a huge gap-out to frontside lipslide off the bump onto the rail for an 8.5 point score.
Keeping up the pressure, Joslin followed up with another Nine Club Run score – putting him into first place closely trailed by Huston as the action moved into Best Trick attempts. Huston opened strong by landing a gap out to frontside nosebluntslide onto the rail for 8.8 points, but O'Neill moved to the top of the leaderboard via a switch 360 kickflip to lipslide down the rail – officially bringing back the rivalry with Huston from the start of this season.
Facing the heat, Huston went big and technical with a gap-out kickflip to frontside boardslide off the bump to rail for a 9.3 point score to claim the lead. Right then, O'Neill kicked it up another notch by posting several Nine Club scores in a row, while Huston closely missed landing a huge backside kickflip off the centerpiece bump and over the rail all the way to flat, leaving him with a 34.6 point score and second place.
The 2016 SLS season may go down as the most challenging chapter in Huston's career, as the level of competition reached unprecedented heights: In May, the 21-year-old from San Juan Capistrano, California, closely ceded first place at the SLS Nike SB Pro Open in Barcelona to Shane O'Neill. In July, he also came within a hair's breadth of clenching the victory at SLS Nike SB World Tour Munich, but had to settle for 3rd place after a heavy slam. The turnaround came at August's SLS tour stop in Newark, New Jersey, when Huston took first place with a dominant 36.0 point score, making him the top contender for this year's title.
Now that the 2016 SLS Nike SB Super Crown World Championship is in the books, what's next for Monster Energy skateboarding? While the team riders will use the free time to focus on video parts and other upcoming projects, one thing is already certain: With two Super Crown Championships and 17 SLS contest wins under his belt already, Huston will surely be back for more next season.
Stay tuned and thanks for following Monster Energy during the 2016 Street League Skateboarding season! For more information visit http://www.monsterenergy.com and follow Monster Energy's Facebook, Instagram & Twitter.
###
About Monster Energy
Based in Corona, California, Monster Energy is the leading marketer and distributor of energy drinks and alternative beverages. Refusing to acknowledge the traditional, Monster Energy supports the scene and sport. Whether motocross, off-road, NASCAR, MMA, BMX, surf, snowboard, ski, skateboard, or the rock and roll lifestyle, Monster Energy is a brand that believes in authenticity and the core of what its sports, athletes and musicians represent. More than a drink, it's the way of life lived by athletes, sports, bands, believers and fans. See more about Monster Energy including all of its drinks at http://www.monsterenergy.com.