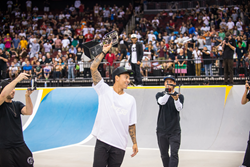 Winning today felt amazing. It's been almost a year since I've had a win in Street League, so I was just super pumped going in today and was feeling really good on my board. It was just one of those days when everything was working out - Nyjah Huston
Newark, New Jersey (PRWEB) August 29, 2016
Monster Energy's Monster Energy's Nyjah Huston Takes 1st Place at SLS Nike SB World Tour New Jersey marking his 17th SLS career victory.
What a day! Today's SLS Nike SB World Tour stop in Newark, New Jersey, made Street League history with multiple 9 Club scores, big gap and rail moves, and the return of Huston to the top spot. In front of an energetic crowd at the Prudential Center, the 21-year-old from San Juan Capistrano took home the victory – his 17th career Street League win – against the world's best street skaters, earning $80k in prize money and a Golden Ticket to the SLS Super Crown World Championships in October.
The pressure was intense today in the Brick City, as the Newark event offered one final chance to qualify for the 2016 SLS Nike SB Super Crown World Championships. Plus, the difficult course design raised the stakes by favoring big tricks and fast lines with no room for error. Ramp builders from California Skateparks stacked the concrete course with a massive 12-stair set plus handrail, a multi-level ledge obstacle, a bump to kink rail, tall quarterpipes with an eight-foot channel, and an assortment of bumps, rails, and ledges.
No stranger to challenging course designs, Huston came into the event fresh off a first-place finish in the Street competition two weeks ago at CPH Open 2016 in Copenhagen, Denmark. In today's heated Prelims – narrowing the field of 22 SLS pros down to the final eight riders – Huston put together a flawless qualifying Run, featuring a feeble grind across the entire kink rail, nollie crooked grind the 12-stair rail, and backside Smith grind on the bump-to-bump rail, boosted by Best Trick highlights such as switch frontside kickflip down the big stairs, and fakie ollie switch frontside crooked and switch frontside feeble down the big rail for a 33.2 point qualifying score.
In the finals Huston found himself under pressure from rookie pro Chris Joslin and Australia's Tommy Fynn. Keeping his composure, Huston built an early lead with a perfect 45-second Run featuring a 10-foot gap-out ollie to backside lipslide on the kink rail, frontside nosegrind off the quarterpipe into the channel, kickflip to frontside boardslide the bump rail, frontside Smith grind across the centerpiece ramp and ollie transfer into the quarterpipe below, backside Smith grind pop-out on the kink rail, 360 kickflip over the bump-to-bump, and nollie backside overcrooked the 12-stair rail for 8.5 points.
When the Finals moved into Best Trick attempts, Huston maintained his momentum, landing a massive gap-out kickflip frontside boardslide on the kink rail (8.8 points), Caballerial to backside lipslide fakie on the big rail (8.7 points), and gap-out kickflip to backside lipslide on the kink rail (9.1 points), sealing the win after his third attempt. Taking his last Best Trick entry as a victory lap, Huston added a backside 270 to nosebluntslide down the big rail for 9.4 points – the highest-scoring trick of the weekend – bringing his final score to 36.0 points.
"Winning today felt amazing. It's been almost a year since I've had a win in Street League, so I was just super pumped going in today and was feeling really good on my board. It was just one of those days when everything was working out, I'm really stoked!" said Huston upon winning first place, his first SLS win since last year's Pro Open in Barcelona. "I was really happy with the course here in Newark and not just the big stuff, but everything about it made it one of my favorite courses yet."
Huston's Monster Energy teammate Chris Cole put together a Finals Run featuring switch frontside 180 to 5-0 grind down the Hubba, frontside ollie one-foot over the quarterpipe channel, frontside bluntslide the bump rail, backside bluntslide down the Hubba, and backside 360 Judo air transfer up the centerpiece. In the Best Trick section, Cole followed up with ollie over to noseblunt slide down the Hubba and a blindside kickflip to fakie over the eight-foot quarterpipe channel for a sixth place finish.
Closely missing the final eight, Monster's Ishod Wair stoked out the crowd in his native New Jersey with consistent Runs and heavy Best Trick entries. Wair's highlights included frontside nosegrind the 12-stair rail, feeble grind the entire kink rail, frontside 180 switch crooked the Hubba, frontside lipslide transfer over the eight-foot quarterpipe channel, and frontside 180 kickflip over the big rail into the bank below. His teammate and Street League newcomer Kyle Walker made a strong showing, landing backside 180 nosegrind revert and backside 180 to switch Smith grind on the Hubba, huge alley-oop frontside 180 ollie transfer up the deck, frontside bluntslide the 12-stair rail, and frontside 180 kickflip down the big stairs.
Now that another history-making SLS event is in the books, all eyes are on the final showdown: The SLS Nike SB Super Crown World Championship will decide the winner of the 2016 Street League Skateboarding Nike SB World Tour at the Galen Center at USC in Los Angeles on October 2.
Will Huston reclaim his World Championship title against a field of rookies and long-time competitors? Make sure to tune in and watch the web cast on streetleague.com as this season is about to end on a high note.
For more information visit http://www.monsterenergy.com and make sure to follow Monster Energy's Facebook, Instagram & Twitter for exclusive updates from the 2016 Street League Skateboarding season.
###
About Monster Energy
Based in Corona, California, Monster Energy is the leading marketer and distributor of energy drinks and alternative beverages. Refusing to acknowledge the traditional, Monster Energy supports the scene and sport. Whether motocross, off-road, NASCAR, MMA, BMX, surf, snowboard, ski, skateboard, or the rock and roll lifestyle, Monster Energy is a brand that believes in authenticity and the core of what its sports, athletes and musicians represent. More than a drink, it's the way of life lived by athletes, sports, bands, believers and fans. See more about Monster Energy including all of its drinks at http://www.monsterenergy.com.