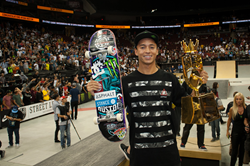 Rather than doing a trick to beat the score, the key is to do a trick you feel comfortable doing. I had landed the caballerial kickflip multiple times in practice and I knew that I could land it. Nyjah Huston
Newark, NJ (PRWEB) August 25, 2014
After a night of heated competition, super-close calls and a whooping seven(!) 9 Club scores at the 2014 SLS Nike SB Super Crown World Championship, we have a winner: Monster Energy's Nyjah Huston emerged victoriously in front of a roaring crowd at the sold-out Prudential Center in Newark, New Jersey, taking home the title of 2014 Street League Champion and the $200,000 check that comes with it.
Coming into the high-stakes Super Crown event, the question on everyone's mind was: Will the undefeated Huston win the contest and secure the first-ever full season sweep in SLS history?
Right from the start, the pressure bubbled at the World Championship level with competitors throwing down Flow Section runs on the California Skateparks-designed course well above the 8.0 score mark, surpassing the usual 6.6 point average in this segment.
Facing heated competition from Luan Oliveira and Torey Pudwill, Huston put together a flawless Flow Section run including backside nosebluntslide on the bump to crossbar rail, backside 360 ollie over the center kicker, nollie nosegrind up the big bank to centerpiece ledge gap and a huge kickflip off the bump over the crossbar rail for a 8.6 score.
The Impact Section saw a barrage of heavy-hitting moves on the Super Crown Course with its extra gnarly obstacles. As announcer Geoff Rowley said, this was the time to, "Go big, or go home!" Huston cemented an early lead with the first 9 Club score of the night, a caballerial nosebluntslide fakie up the bank to center ledge for 9.0 points. His Monster Energy teammate, rookie pro Matt Berger followed suit with a highly technical backside tailslide bigflip out on the same obstacle for a whooping 9.2 score. Huston said: "I think Berger skated absolutely amazing today, he is one of my favorite skaters in general. I'm super stoked he made it from the Pro Open event into the Street League and that he's out there killing it."
Delivering a double punch, Berger kept up the heat as the action moved to the Control Section with another 9 Club, a frontside tailslide to pop out fakie across the dangerous bump to crossbar rail. This opened a no-holds-barred series of 9 Clubs: New Jersey native and Monster Energy team rider Ishod Wair raised the bar with a burly frontside kickflip over the bump to crossbar obstacle for 9.2 points, while Huston popped a massive backside kickflip for 9.0 in the same spot.
It all came down to the last round of Control Section attempts in Newark, after Wair cemented a lead with heavy moves including a frontside ollie transfer over the 10-foot quarterpipe channel gap and Berger nailed a frontside feeble pop-over on the crossbar obstacle.
But with Pudwill sweeping into first place on a backside salad grind – coming within inches of his first SLS career win – all eyes were on Huston as he took the very last attempt of the night: No stranger to dramatic showdowns, the 19-year-old of San Juan Capistrano, California, twirled a caballerial kickflip into the centerpiece bank for 7.8 points, winning the title of Super Crown Champion to wrap up the first ever undefeated season.
"Rather than doing a trick to beat the score, the key is to do a trick you feel comfortable doing," said Huston. I had landed the caballerial kickflip multiple times in practice and I knew that I could land it."
"Obviously I'm super stoked on this year, it was really ideal. Having a straight sweep is something you cannot expect or set a goal for, but this season really just went well. I have been practicing a lot and added a lot of new tricks. I'm stoked and I'm definitely looking forward to next year!" said Huston upon winning the Championship title that pushes his overall SLS contest winnings above the $2 million mark, making him the winningest skateboarder in history.
"It's also a little sad that the season is over, because I have so much fun skating these Street League events every time." I have been able to win on all the different courses they made all season, and there was some especially dangerous stuff out here tonight. It feels good to know that I can go out on a course and be able to adapt."
After the final wrapped up, a 20-minute, best-score heat went down for the Diamond Supply Co. #DIAMONDLIFE Afterparty event: O'Neill, known for his technical skating put down an extremely strong season and took the $3,500 price for the best trick with high-tech moves such as a nollie inward heelflip bigspin up the centerpiece bank to gap, switch backside kickflip down the big gap and his signature switch double big flip over the center kicker.
So there you have it: With Huston posting an undefeated season crowned by the championship title, O'Neill taking best trick and seven 9 Clubs added in New Jersey, a new chapter of Street League Skateboarding history is in the books. Where it will go from here, nobody knows. Stay tuned and thanks for following Monster Energy during the 2014 Street League Skateboarding season.
For more on the Monster Energy SLS skateboarders: Huston, Cole, Wair, O'Neil, Ramondetta, and Berger check out monsterenergy.com, and for more on the 2014 Street League Skateboarding Nike SB World Tour check out streetleague.com. For interview or photo requests contact Kim Dresser.
Also, if you missed the action you can download and watch the entire 2014 SLS Nike SB World Tour on iTunes.
###
About Monster Beverage Corporation:
Based in Corona, California, Monster Beverage Corporation is the leading marketer and distributor of energy drinks and alternative beverages. Refusing to acknowledge the traditional, Monster Beverage Corporation supports the scene and sport. Whether motocross, off-road, NASCAR, BMX, surf, snowboard, ski, skateboard, or the rock and roll lifestyle, Monster is a brand that believes in authenticity and the core of what its sports, athletes and musicians represent. More than a drink, it's the way of life lived by athletes, sports, bands, believers and fans.
See more about Monster Beverage Corporation including all of its drinks at http://www.monsterenergy.com.