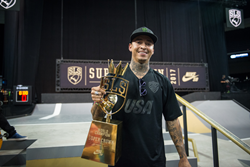 I'm pretty beat up right now, but I'm the type of person who's always down to go through a little pain to compete - Nyjah Huston
Los Angeles, California (PRWEB) September 16, 2017
Facing the world's top street skateboarders in the SLS Nike SB Super Crown World Championship in Los Angeles, Monster Energy's Nyjah Huston claimed first place and his third Super Crown World Championship. In front of a high-energy crowd at USC's Galen Center and thousands of viewers tuned in via live stream on ETN, the 22-year-old from San Juan Capistrano landed the highest-scoring trick of the entire season in a performance that netted his 20th SLS competition win.
Tonight's title win was an uphill battle for Huston. Although he qualified into the Super Crown on the strength of two Golden Tickets plus the season's highest overall score at 280 qualifying points, a recent head trauma from a street skating injury almost prevented him from competing in Los Angeles tonight. Further adding to the challenge, the California Skateparks-designed street course offered none of the big gaps, handrails, and transfers that Huston dominates. Instead, versatility and technical creativity were the keys to winning the SLS World Championship in Los Angeles, as the season's top eight street skateboarders attacked the course.
Tonight's contest kicked off with a Runs section worthy of a Super Crown World Championship. Los Angeles local Louie Lopez, who qualified into Street League as a newcomer by winning Tampa Pro in March, set the bar high by posting two perfect runs netting Nine Club scores at 9.1 points and 9.4 points. Further increasing the heat, reigning 2016 Super Crown World Champion Shane O'Neill posted a Nine Club Run score at 9.2 points, with Brazil's Kelvin Hoefler trailing closely behind.
Skating what is now his seventh Super Crown finals, Huston responded to the pressure by putting together two perfect runs of his own, both earning Nine Club scores at 9.0 points and 9.2 points. Highlights included frontside kickflip over the platform hip, backside Smith grind the long bump gap rail, backside 180 to nosegrind revert the Hubba, kickflip backside lipslide the Euro gap rail, frontside bluntslide off the ledge into the bank, 360 kickflip up the Euro gap, blunt kickflip on the quarterpipe, as well as backside 270 lipslide and Caballerial to frontside boardslide fakie down the big rail.
When the action moved into Best Trick attempts, Brazil's Hoefler leapfrogged into first place while the rest of the pack faced difficulties posting a score in what ETN commentator Paul Zitzer labeled a "bail fest." After missing his first two out of five attempts, Huston pulled a perfect nollie heelflip frontside noseblunt slide down the handrail for 9.3 points, edging back into second place. With only two tries left, Lopez rose to the top of the leader board, only to be surpassed by O'Neill with yet another record score at 9.4 points.
No stranger to high-pressure situations, Huston drew on his technical ability to pull a highly precise kickflip 270 to lipslide down the big rail for 9.5 points. It was the highest score of the entire 2017 SLS season, earning Huston a 37-point final score and first place, his 20th career win in a Street League Skateboarding competition.
"Every win is a good feeling but this one feels like no other. It's been a rough few weeks and I'm just stoked to be here with all my homies in Los Angeles tonight," said Nyjah Huston upon winning the SLS Super Crown World Championship tonight.
Tonight's victory is even more impressive considering that Huston's Super Crown participation was in limbo until the last moment for medical reasons.
On September 6, he suffered a heavy fall to the head while skating a handrail with his friends in the Los Angeles area. He had to be taken to St. Francis Medical Center in Lynnwood, where he was diagnosed with a concussion and head trauma. Huston only received green light from his doctors days before Super Crown, and could hardly wait to finish what was one of his strongest seasons to date.
Huston kicked off the 2017 Street League season in signature dominant shape. In May he took first place at the season kick-off, the SLS Nike SB Pro Open in Barcelona, Spain, winning the contest for the second time and securing his first Golden Ticket to the Super Crown. His winning streak continued at the first official 2017 Street League Skateboarding Nike SB World Tour stop in Munich, Germany. Posting one of the highest all-time scores in an SLS event at 36.1 points – an above 9-point average score per counted trick – Huston brought home first place and his second Golden Ticket.
But once the SLS Nike SB World Tour rolled into Chicago for its second stop in August, Huston's winning streak ended with a hard slam on a switch frontside kickflip down the large centerpiece gap as he lost his footing upon landing. After hyper-extending his back leg in a "splits" position, Huston battled to post another high score, but had to settle for fourth place and would spend the following weeks recovering from his hamstring injury in the run-up to the Super Crown.
With his concussion and injured ankle further weighing him down, Huston battled hard to win the title tonight. "I'm pretty beat up right now, but I'm the type of person who's always down to go through a little pain to compete," said Huston in his pre-contest ETN interview tonight. He had already come close to the trophy these past two years, finishing in second place at the 2016 and 2015 Super Crown events. Tonight's win marks his third SLS Super Crown trophy after taking first place in 2012 and 2014. Congratulations to Huston from the team at Monster Energy and thanks to everyone for following the 2017 Street League Skateboarding season!
Now that the 2017 SLS Nike SB Super Crown World Championship is in the books, Huston will be back in the streets working on new video projects for his sponsors. And for more Monster Energy skateboarding, make sure to tune in next Friday, September 22, when Monster's Lizzie Armanto, Ben Hatchell, Ishod Wair, Raven Tershy, Rune Glifberg, and Tom Schaar will be battling for titles at the 2017 Vans Park Series World Championship in Shanghai, China.
If you missed tonight's live Web Cast on ETN you can re-watch the action from the 2017 SLS Nike SB Super Crown World Championship on ESPN 2 on September 21 and on ABC's World of X Games on September 24.
Photos for Editorial Use Only.
Find more information on http://www.monsterenergy.com and make sure to follow Monster Energy's Facebook, Instagram & Twitter for exclusive updates from Monster Energy skateboarding.
###
About Monster Energy
Based in Corona, California, Monster Energy is the leading marketer and distributor of energy drinks and alternative beverages. Refusing to acknowledge the traditional, Monster Energy supports the scene and sport. Whether motocross, off-road, NASCAR, MMA, BMX, surf, snowboard, ski, skateboard, or the rock and roll lifestyle, Monster Energy is a brand that believes in authenticity and the core of what its sports, athletes and musicians represent. More than a drink, it's the way of life lived by athletes, sports, bands, believers and fans. See more about Monster Energy including all of its drinks at http://www.monsterenergy.com.