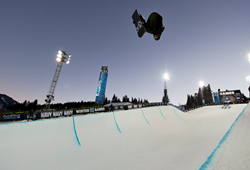 If you can come back this quick – you can also put all of this energy into new tricks and bigger amplitude. All of the energy you put into your healing can now be put into your riding. Iouri Podladtchikov
Aspen, Colo (PRWEB) January 23, 2015
In nearly sub-zero nighttime temperatures, Iouri Podladtchikov brought his own heat to clinch the bronze medal in the Men's Snowboard Superpipe at X Games Aspen 2015. Even more amazing, Podladtchikov is coming fresh off a surgery on November 27 for a fractured ankle, less than two months ago making this bronze medal all the more well earned and hard won.
The judges were looking for variety, and Podladtchikov gave them what they wanted, stomping a flawless first run featuring a huge backside air to a frontside 540 into a backside double cork 1260 followed up with a frontside double cork 1080 into a Cab double cork 1080 and finishing the last hit with a stylish and unique Alley-Oop backside rodeo 540 nose grab. His score of 89 beat out legendary Shaun White and the best riders in the world, which carried him through into the third-place podium spot.
When asked how it feels to take bronze coming off his injury, Podladtchikov, the 2014 Olympic SuperPipe gold medalist, said, "It feels so great and it feels even better because I had these challenges. It makes you feel like you are capable of so much more. If you can come back this quick – you can also put all of this energy into new tricks and bigger amplitude. All of the energy you put into your healing can now be put into your riding. Getting a third place for trying to keep up and trying to get back to your best riding is amazing. It is just the beginning of a new age."
With 16,300 people in the crowd watching him ride—the largest Thursday-night crowd in X Games Aspen history— Podladtchikov truly felt the love.
Check out http://www.monsterenergy.com and http://facebook.com/monsterenergy for more from X Games Aspen 2015, including photos, videos, and contest results.
Follow us on Instagram and Twitter and search #UnleashedAtX for exclusive behind-the-scenes looks in Aspen.
###
About Monster Beverage Corporation:
Based in Corona, California, Monster Beverage Corporation is the leading marketer and distributor of energy drinks and alternative beverages. Refusing to acknowledge the traditional, Monster Beverage Corporation supports the scene and sport. Whether motocross, off-road, NASCAR, BMX, surf, snowboard, ski, skateboard, or the rock and roll lifestyle, Monster is a brand that believes in authenticity and the core of what its sports, athletes and musicians represent. More than a drink, it's the way of life lived by athletes, sports, bands, believers and fans. See more about Monster Beverage Corporation including all of its drinks at http://www.monsterenergy.com.