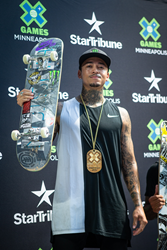 SYDNEY (PRWEB) October 17, 2018
Prepare to witness history in the making! In just a few days, Monster Energy's team of world-class athletes will compete at X Games Sydney 2018, the first-ever X Games spectacle on the Australian continent. As a unique actions sports and festival experience, X Games Sydney will see the biggest names in BMX, motocross, and skateboarding battle for X Games medals from October 19 – 21 at Spotless Stadium inside Sydney Olympic Park.
Over the course of three days, the Australian debut of X Games will stoke the crowd in Sydney with a signature mix of world-class athletes and youth culture. Each day will showcase a full schedule of competitions, including finals and medal presentations. Aside from headline competitors such as Nyjah Huston (Skate), Colton Walker (BMX), and Josh Sheehan (Moto X), the event also features the interactive X Fest cultural festival. Musical acts include Melbourne-based music collective The Avalanches and multi-platinum hip-hop artist 360.
Rounding out the weekend's mix of events, fans will be treated to demonstrations of BMX and skateboard vert riding. Monster Energy will also bring in noncompeting Monster Energy athletes and personalities to meet and greet with fans. Look forward to Australia's Luke 'Dingo' Trembath hosting Facebook live joined by Blake "Bilko" Williams. Your host on FB Live Motocross will be no other than Jeremy "Twitch" Stenberg, while mountain bike icon Troy Brosnan and Australian wakeboard rider Harley Clifford will be making on-site appearances.
The invite-only event is reserved for multiple-time X Games medalists and upcoming pros in order to keep the level of riding world class. With all medals scored in Australia counting towards official X Games medal counts, expect the pros to be on their A-game. Visit monsterenergy.com for a full list of invitees and watch out for the following key athletes and events this weekend in Sydney:
In Skateboarding, Monster Energy heads into Saturday's Big Air event with the ultimate combination of legendary trailblazer and young rookie talent. Internationally known as one of the pioneers of Big Air skateboarding, Australia's Jake Brown is back for more after six X Games gold medals and 22 X Games appearances. He will be joined on the Mega Ramp by 18-year-old rookie Trey Wood, who caused a major upset at X Games Minneapolis in July by claiming a bronze medal in Big Air. Also watch out for 15-year-old Monster Army recruit Evan Doherty, who has been practicing hard for Sydney.
Sunday's Skateboard Street event will see reigning Street League Skateboarding Super Crown Champion and 14-time X Games medalist Nyjah Huston go blow-for-blow with the world's best street skateboarders. At X Games Minneapolis, the 24-year old who has been competing at X Games since age 11 returned to full form after a knee injury by claiming his eighth career Skateboard Street gold medal, the most out of any rider in X Games history. Also keep an eye out for his teammate and Thrasher Magazine Skater of the Year Ishod Wair, a previous X Games bronze medalist and currently on a tear after taking top spots at this summer's CPH Open.
Let's move on to BMX where award-winning innovator Dakota Roche is looking for his fourth medal – perhaps his first gold? – In Saturday's BMX Street event. His teammate and UK team rider Alex Donnachie has yet to medal at X Games, but boasts a track record of contest wins and video parts that make him a podium threat.
Monster Energy will be heading into Sunday's BMX Dirt competition with a stacked field of riders, headed by Australia's Kyle Baldock who currently holds nine X Games medals, including six gold. Also bringing the heat are two-time gold medalist Kevin Peraza, two-time silver medalist Ben Wallace and 2017's BMX Dirt gold medalist Colton Walker. For another top contender, look no further than Alex Nikulin, who made history in Minneapolis this summer by winning third place and becoming the first Russian athlete to place top three at X Games in over 15 years.
Also look forward to the crossover skills of James Foster, who is looking to improve on his BMX Dirt bronze from X Games Austin 2016 and continue his BMX Big Air gold streak after winning in Minneapolis 2017 and 2018.
Last but definitely not least, Monster Energy heads into the weekend's Moto X events with a dominant squad that crushed records at X Games Minneapolis in July by claiming four gold, two silver and one bronze medal. In Friday's Moto X Step Up, all eyes are on Australian motocross icon Jarryd McNeil who is currently on a three-year winning streak after dominating the event since 2016. His teammate Bryce Hudson is no stranger to podium spots with one gold and three Step Up silver under his belt.
Friday night's Moto X Doubles competition promises a special treat with motocross legends teaming up for top scores. The crowd will be stoked to see Donnybrook, Australia's Josh Sheehan who is on a mission at X Games Sydney: After missing the podium at X Games Minneapolis, the six-time X Games medalist will be competing not only in Moto X Doubles, but Moto X Freestyle, Moto X Best Trick, and Moto X Best Whip. Will Sheehan make history as the first motocross rider to win three Moto X gold medals at the same X Games? The Doubles event also features FMX innovator Taka Higashino in his 12th X Games appearance and Harry Bink, who closely missed the podium in Minneapolis after dealing with a dislocated shoulder.
The motocross action continues on Saturday with Moto X Freestyle, where Josh Sheehan, Taka Higashino and Harry Bink return as top contenders, this time for solo scores. The three bring history-making talent to the table, including the world's first triple backflip (Sheehan, 2015), the first Rock Solid front flip (Bink, 2017) and the first Japanese X Games medal (Higashino, 2010). The three will also be battling for podium spots in Moto X Best Trick on Sunday.
Sunday closes out a high-octane weekend at X Games Sydney with a triple Moto X banger: In Moto X Best Whip, Monster Energy's Jarryd McNeil is coming in hot off a recent gold medal at X Games Minneapolis that brought his record to 11 medals, including six gold medals. Also no stranger to massively contorted whips, his teammate Axell Hodges is looking to better this summer's bronze medal, while Josh Sheehan is gunning for his first Best Whip medal at X Games.
In Moto X Quarterpipe High Air, the main question is: Will Monster Energy's Axell Hodges soar above the competition once again after clinching the top spot at X Games Minneapolis this summer? He will be facing a field stacked with top aerialists, including teammate and local favorite Jarryd McNeil from Yarrawonga, Australia, who is known for his high-air chops in Step Up.
Download photos for editorial use.
X Games fans in the United States can watch 16.5 hours of live competition coverage from the inaugural X Games Sydney beginning Thursday, October 18, on the X Games Facebook, YouTube and Twitter pages. Additionally, four hours of event recap coverage will air on ABC as part of the World of X Games series, beginning Sunday, October 28.
Fans can also follow the latest news and highlights across ESPN digital platforms, including XGames.com and X Games pages across Twitter, Facebook, Instagram, Snapchat and more.
In addition to all of the content on ESPN's U.S.-based media platforms, X Games Sydney 2018 will be televised globally in 190 countries and territories to more than 495 million homes. Don't miss out on the action in Sydney.
Score all the exclusive updates from X Games Sydney 2018 including photos and contest results as they happen visit http://www.monsterenergy.com. Follow Monster Energy on YouTube, Facebook, Instagram & Twitter, and watch the official Monster Energy hashtag #unleashedatx on social media.
About Monster Energy
Based in Corona, California, Monster Energy is the leading marketer and distributor of energy drinks and alternative beverages. Refusing to acknowledge the traditional, Monster Energy supports the scene and sport. Whether motocross, off-road, NASCAR, MMA, BMX, surf, snowboard, ski, skateboard, or the rock and roll lifestyle, Monster Energy is a brand that believes in authenticity and the core of what its sports, athletes and musicians represent. More than a drink, it's the way of life lived by athletes, sports, bands, believers and fans. See more about Monster Energy including all of its drinks at http://www.monsterenergy.com.