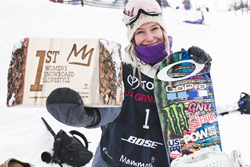 I mean conditions sucked, but hey, we pulled it off. And...Really I'm just so happy my family got to be here. This doesn't happen all the time and this whole week was a family reunion so I'm very grateful - Jamie Anderson.
Mammoth Lakes, California (PRWEB) February 06, 2017
Monster Energy's Jamie Anderson continued her stellar season by adding another trophy to her collection by winning Slopestyle at the final stop of the Toyota U.S. Grand Prix event at Mammoth Mountain. Battling strong competition and tough weather, Anderson leaned on focus and experience to grind out another win.
Considering the winter that California has been having with Mammoth Mountain receiving over 20 feet of snow in the month of January alone, it comes with little surprise that winter was in full effect for this weekend's event. Having to cancel or postpone most events all week, Slopestyle finals finally took place under cloudy skies, fresh snow and lots of wind.
But this isn't Anderson's first rodeo and adverse conditions were not going to stop the most decorated women's Slopestyle athlete in the history of women's snowboarding.
Drawing on years of experience, Anderson understood that a winning run today wouldn't necessarily be about progression but more about consistency. Just staying on her board given the low light and wind was impressive enough as she took apart the rail section. Starting with a frontside 180 on to a cab 180 off the down bar she then buttered a tail slide 270 off the signature Mammoth Pyramid feature.
Transitioning into the jump line she set up with a little hand plant on the quarter pipe before boosting a method off the following side hit. Picking up speed toward the first kicker Anderson set up to spin and laid down a frontside 720 before floating one of her beautiful backside rodeos. With one jump to go the contest would be hers if she just landed on her board. Fortunately her bag of tricks is deep and all things considered a smooth cab 540 would be enough to secure the victory.
"I mean conditions sucked but hey, we pulled it off," she said with a smile.
Looking around and finding her family in the crowd she added, "Really, I'm just so happy my family got to be here. This doesn't happen all the time and this whole week was a family reunion so I'm very grateful."
An important win for Anderson, this was the first event in which riders could start to collect points towards a bid for the 2018 U.S. Olympic Team. Anderson, you remember is the reigning Slopestyle Gold medalist from the Sochi winter games held in Russia three years ago and al things considered, a shoe in to be representing her country next year in Pyeongchang, South Korea.
For more on Anderson visit http://www.monsterenergy.com.
For interview or photo requests contact Kim Dresser.
###
About Monster Energy
Based in Corona, California, Monster Energy is the leading marketer and distributor of energy drinks and alternative beverages. Refusing to acknowledge the traditional, Monster Energy supports the scene and sport. Whether motocross, off-road, NASCAR, MMA, BMX, surf, snowboard, ski, skateboard, or the rock and roll lifestyle, Monster Energy is a brand that believes in authenticity and the core of what its sports, athletes and musicians represent. More than a drink, it's the way of life lived by athletes, sports, bands, believers and fans. See more about Monster Energy including all of its drinks at http://www.monsterenergy.com.