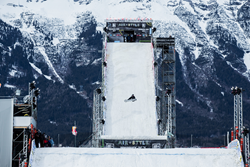 I was pretty scared to try it before and was scared that this jump was to small, but I went for it, landed it was super stoked - Max Parrot on landing the 1620 triple cork.
Innsbruck, Austria (PRWEB) February 04, 2017
Monster Energy congratulates Max Parrot and Sven Thorgren for stacking the podium at the storied Air + Style Big Air contest in Innsbruck. Parrot, in remarkable fashion, took the victory against a field of the world's best freestyle riders, while our up and coming Swede, Sven Thorgren snagged third.
In Europe they do things a little different, and the Air + Style is a snowboard contest unlike any other. Entering its second decade, the event is full of history, rumors and action one might consider wild. Tonight was no different as crowds gathered under the lights to party Iike rock stars, listen to live music and watch the mind-bending shredding of today's most progressive snowboarders.
Actually held in the city of Innsbruck on a massive scaffold jump, riders are given three attempts to pull off their best moves. The judging is then based on the combined score of the top two tricks ensuring riders mix it up and show some variety, an essential part of the Air + Style from its inception.
Coming off a victory at X Games Aspen 2017 Snowboard Big Air where he landed the first ever quad cork underflip, Parrot took control of the contest from the beginning as he dropped though the choppy run and lashed out a backside triple cork 1440 with a mute grab. As one of the larger airs of the night, Parrot crushed the landing without so much as a twitch of the finger scoring an impressive 89.66 to start the night.
Monster Energy teammate Thorgren then teed off with a cab 1260 complete with a roast beef grab and a double shifty thrown in for good measure. Keeping true to an event that has always reminded us that style itself is also an essential part of progression, Thorgren scored 83.33.
"The double shifty roastbeef kind of calmed my nerves when I landed because I didn't land my first run so I was super nervous and my legs were shaking," said Thorgren. It was cool to do a trick that I really enjoy without to much spinning. It was just a fun trick and cool that the judges liked it. Then when I got down it was all good and I was super happy to be on the podium especially after coming off an injury this winter."
After landing the 1440 Parrot was on fire as he sped towards his second attempt. Breaking off a cab 1620 triple cork the 22-year-old Canadian spun through the air with such grace at first judges questioned what exactly it was he did. However, when they were able to wrap their heads around it, Parrot was given the high mark of 94.66. On top of his first run, no one would match his impressive 184.32 combined score.
"I was pretty scared to try it before and was scared that this jump was to small, but I went for it, landed it was super stoked," said Parrot in landing the 1620 triple cork.
Apparently, it was a trick giving him considerable trouble and when asked about it he confided, "I actually didn't even try that trick during practice. Tonight's the first time all week!"
Meanwhile, Thorgren stayed on his game for his final jump chucking a backside triple cork 1440 with more style and fluidity than any in the game. Scoring a 93.00, which secured a third-place finish for a combined 176.33.
For Parrot however, the wins just keep stacking up. One wonders, how does this one stand apart from the rest?
"Well the crowd in Innsbruck is really insane and it feels good to bring this thing back home. To podium at Air and Style means a lot to me. This contest has a lot of history. And…Innsbruck parties are the best."
The second stop of the Air + Style world tour proved to be an essential win for Parrot who now stands in fifth place overall and is still in contention for the overall tour title to be awarded at the final stop on February 19th in Los Angeles.
###
About Monster Energy
Based in Corona, California, Monster Energy is the leading marketer and distributor of energy drinks and alternative beverages. Refusing to acknowledge the traditional, Monster Energy supports the scene and sport. Whether motocross, off-road, NASCAR, MMA, BMX, surf, snowboard, ski, skateboard, or the rock and roll lifestyle, Monster Energy is a brand that believes in authenticity and the core of what its sports, athletes and musicians represent. More than a drink, it's the way of life lived by athletes, sports, bands, believers and fans. See more about Monster Energy including all of its drinks at http://www.monsterenergy.com.