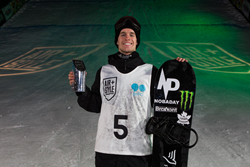 I can't even explain this. I've never won in LA and never won with this combination of tricks. I'm going to put a little check mark next to this one - Max Parrot
Los Angeles, California (PRWEB) February 20, 2017
Monster Energy congratulates Max Parrot on his win Sunday night at the final stop of the Air + Style in Los Angeles. In what has been a remarkable season for the Canadian ripper, the win also earned him third overall in the three-stop tour, which saw events in Beijing, China and Innsbruck, Austria earlier this season.
Set in historic Exposition Park in downtown LA, not the typical place for a snowboard contest, Air + Style Los Angeles is a one of a kind event mixing equal parts, music, snowboarding and party. With musical acts like TV on the Radio and Major Lasers, this was no casual gathering. The event is a full-blown music festival with one exception – a monolithic 16-story scaffold structure. And although Parrot grew up riding on actual snow covered slopes in Southern Quebec, tonight he would prove that whether the slopes are shaped by tectonic forces or engineering degrees, whether the snow fell from the sky or was basted from a gun, as long as he has a snowboard strapped to his feet, there is no issue.
Coming off a victory at the Innsbruck Air + Style two weeks ago and up against familiar faces like Mark McMorris and the young Marcus Kleveland, this was to be no cakewalk. Yet, as the competition kicked off and he dropped in to his first attempt on the man-made super kicker, Parrot, without any words, told his competition what to do.
Usually reserving the bangers for last, tonight the 22-year-old goofy footer wasted no time floating a lofty cab 1620 over the skies of LA, crushing the landing to the bewilderment of thousands of onlookers. It was an unusual strategy, but Parrot is far from a simple stunt monkey, he knew exactly what he was doing.
Scoring a 90.00, no one would top it the rest of the evening.
"It's not easy out here," said Parrot. "It's raining, not raining – we're having every weather possible."
This adversity however, is what shows the true talent of these snowboarders and as competition wore many riders were having speed issues and had trouble sticking their landing's because they were actually going too big. Even Parrot, on his second attempt wasn't able to hold it together as he slid out on a cab 1440.
Dressed in his trademark all black, all business attire, Parrot sealed the deal on his final attempt with a frontside triple cork 1440 landing like everyone else, at the bottom of the jump. This time he had the legs for it and muscled out the landing like a man possessed. Technicality and style considered the judges awarded him 88.66 points for a combined total of 178.66.
"Dude, I can't even explain this," he smiled afterwards. "I've never won in LA, never won with this combination of tricks. I'm going to put a little check mark next to this one!"
The win also put Parrot in third place in overall tour points, quite the feat considering he didn't even qualify for finals at the Beijing event.
At this point we have come to understand Parrot is a man on a mission, if not a genetically altered super species of snowboarder altogether. With a history making season under his belt including the first ever landed Cab quadruple cork underflip at the X Games in Aspen in January, it's clear that as far as Big Air events go, if Parrot lands on his snowboard, he wins the contest. With the US Open and X Games Norway still to come, what's he got in store for the rest of the season?
###
About Monster Energy
Based in Corona, California, Monster Energy is the leading marketer and distributor of energy drinks and alternative beverages. Refusing to acknowledge the traditional, Monster Energy supports the scene and sport. Whether motocross, off-road, NASCAR, MMA, BMX, surf, snowboard, ski, skateboard, or the rock and roll lifestyle, Monster Energy is a brand that believes in authenticity and the core of what its sports, athletes and musicians represent. More than a drink, it's the way of life lived by athletes, sports, bands, believers and fans. See more about Monster Energy including all of its drinks at http://www.monsterenergy.com.