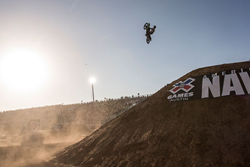 Austin, Texas (PRWEB) June 07, 2014
As the winningest rider in the history of the X Games Moto X Best Whip competition, Monster Energy's Jeremy "Twitch" Stenberg is a perennial favorite in the event. His Monster Energy teammate Josh Hansen isn't exactly a stranger to Best Whip, either. Hansen has won multiple gold medals himself, including the Gold in Best Whip at last summer's X Games Los Angeles.
However, past success doesn't determine future success. X Games Moto X Best Whip is the only Moto X discipline at the X Games that's not judged by expert judges, but is instead judged by fans via Twitter. And because the fans are the judges, the only real rule in Best Whip is that the trick has to be a whip, and not some other sort of freestyle trick.
The wild card in Best Whip at X Games Austin was Tom Parsons, though. Parsons came out of relative obscurity to defeat Stenberg and Hansen in the "Biggest Whip" contest at the 2013 Monster Energy Cup in Las Vegas, and that victory landed him a spot in Best Whip.
At just after 7 p.m. local time, the Best Whip final got going at Austin's Circuit of the Americas, with Stenberg, Hansen, Parsons, Lance Coury, Vicki Golden and Beau Bamburg.
As a rookie, Parsons started the 5-minute competition out, while the top three from X Games Los Angeles – Golden, Stenberg and Hansen – went fourth, fifth and sixth.
After one minute, the results began to be tabulated, and right away, the top three were set. Throughout the competition, as the competitors threw their best turn-downs, classic whips, and off-axis whips, in both directions, Parsons maintained the lead the entire time, finishing with 33% of the vote, while Stenberg ended up second with 23% over Hansen with 18%.
It was Stenberg's 12th X Games medal, and his fourth Silver medal. For Hansen, it was his eighth X Games medal, and his fourth Bronze.
For more on Jeremy "Twitch" Stenberg and Josh Hansen, as well as the first-ever X Games Austin, including exclusive photos and daily recaps, check out http://www.monsterenergy.com or http://www.monsterenergy.com/facebook/.
For more information, interview or photo requests contact Kim Dresser.
About Monster Beverage Corporation:
Based in Corona, California, Monster Beverage Corporation is the leading marketer and distributor of energy drinks and alternative beverages. Refusing to acknowledge the traditional, Monster Beverage Corporation supports the scene and sport. Whether motocross, off-road, NASCAR, BMX, surf, snowboard, ski, skateboard, or the rock and roll lifestyle, Monster is a brand that believes in authenticity and the core of what its sports, athletes and musicians represent. More than a drink, it's the way of life lived by athletes, sports, bands, believers and fans. See more about Monster Beverage Corporation including all of its drinks at http://www.monsterenergy.com.