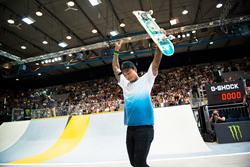 I never tried that trick before and barely skated that rail in practice, but it was all I had at the moment. I had to bring it, everyone out there was hyping me up - Nyjah Huston
Munich, Germany (PRWEB) June 24, 2017
Monster Energy's Nyjah Huston emerged at the top of an elite field of street skaters in front of a capacity crowd and thousands of viewers tuned in via live stream on ETN at the Street League Skateboarding Nike SB World Tour Munich at the Olympic Park stadium in Munich, Germany. With another Street League milestone is in the books, the first official 2017 Street League Skateboarding Nike SB World Tour stop in Munich, Germany, showcased some of the best skateboarding in SLS history and an epic finals stacked with Nine Club scores.
Battling an early summer heat wave and competitors from Australia, Brazil, Canada, Japan, and the United States, the 22-year-old from San Juan Capistrano brought home first place and his second Golden Ticket to the 2017 SLS Nike SB Super Crown World Championship in September.
Huston came to Munich as a favorite fresh off his win at the SLS season opener in Barcelona in May. But it wasn't going to be easy: With all competing pros bringing their A-game, the recipe for staying on top in Munich today consisted of building a strong foundation with high-scoring runs, supplemented by standout moves in the Best Trick segment. A near flawless run and big transfers saw Huston qualifying in second place in the intense prelims – among the "heaviest" in SLS history according to commentator Geoff Rowley – that sidelined some of the strongest Street League competitors.
The finals on the California Skateparks-designed street course turned up the heat even higher as Brazil's Carlos Ribeiro took an early lead with an 8.4-point Run score. Rising to the challenge, Huston responded by stringing together two perfect runs featuring kickflip and 360 flip over the bank-to-bank, transfer to backside lipslide over the quarterpipe channel, backside Smith and kickflip to frontside boardslide on the Euro Gap rail, backside 180 nosegrind down the ledge, fakie 5-0 overcrook revert and backside Smith revert down the rail, and frontside nosegrind across the entire kink rail for 8.8 points and 9.0 points, today's only Nine Club score in the Runs section.
Moving into Best Trick attempts in first place position, Huston found himself amidst yet another high-pressure Street League situation as Dashawn Jordan, Miles Silvas and Yuto Horigome all posted Nine Club scores. Huston battled hard to stay in the top three, landing a transfer ollie out over the 12-foot kicker gap to backside lipslide down the rail for 8.7 points and a kickflip frontside boardslide to fakie across the entire kink rail for 9.0 points. But when Horigome rose to the top of the leaderboard with a 35.5 point overall score, Huston needed something big. Digging deep into his bag of tricks, he found it with a huge kickflip to backside lipslide over the long gap to rail for 9.3 points – today's highest scoring trick – and the win at 36.1 points.
"I never tried that trick before and barely skated that rail in practice, but it was all I had at the moment. I had to bring it, everyone out there was hyping me up," said Huston upon winning first place in Munich today, his 19th career win at an SLS event.
Also stoking out the Munich crowd with strong skating today, Huston's Monster Energy teammate Kyle Walker stacked his prelims runs with highlights such as frontside half Cab kickflip and backside bigspin up the Euro Gap, and a kickflip over the big stage handrail straight into a backside 5-0 down the Hubba.
But although he landed Best Tricks such as Caballerial and Nollie Caballerial down the big bump-to-gap as well as feeble grind on the stage rail to pop out across the triple set, the 2016 Thrasher Magazine Skater of the Year (SOTY) closely missed a spot in today's final eight.
Monster Energy's Matt Berger brought his signature blend of controlled technical skateboarding to Munich, his standouts including kickflip frontside noseslide down the Hubba, frontside hurricane grind and bigspin kickflip frontside boardslide down the rail, and a crooked grind across the entire rollercoaster rail.
Berger's Monster Energy teammate Chris Cole, who won Street League Munich (and the Super Crown World Championship) in 2013, put together a flawless run including frontside bluntslide and fakie nosegrind revert down the Hubba, backside and frontside tailslide the curved ledge, and backside 360 ollie over the kicker. But despite landing a kickflip backside nosebluntslide down the rail and frontside blunt to fakie nosegrind on the Hubba in his Best Trick attempts, the two-time Thrasher SOTY could also not crack today's high-stakes finals.
Now that SLS Nike SB World Tour Munich is in the books, the pros have one more chance to secure a spot in the 2017 SLS Nike SB Super Crown World Championship: Stop Two of the SLS Nike SB World Tour will bring the heat to UIC Pavilion in Chicago on August 13, offering one last Golden Ticket and the Championship Points for making the cut. Will Berger, Cole and Walker skate their way into the Super Crown? And will Huston repeat 2014's all-season victory sweep and take back the Super Crown? Stay tuned!
Next stops on the 2017 Street League Skateboarding Nike SB World Tour:

August 13 SLS Nike SB World Tour: Stop Two | UIC Pavilion | Chicago, IL, USA
Sept. 15 SLS Nike SB Super Crown World Championship | Galen Center at USC | Los Angeles, CA
If you missed the live Web Cast on ETN you can re-watch the action from today's SLS Nike World Tour on ESPN 2 on June 27 and on ABC's World of X Games on July 1.
Find more information visit http://www.monsterenergy.com and make sure to follow Monster Energy's Facebook, Instagram & Twitter for exclusive updates from Street League Skateboarding.
###
About Monster Energy
Based in Corona, California, Monster Energy is the leading marketer and distributor of energy drinks and alternative beverages. Refusing to acknowledge the traditional, Monster Energy supports the scene and sport. Whether motocross, off-road, NASCAR, MMA, BMX, surf, snowboard, ski, skateboard, or the rock and roll lifestyle, Monster Energy is a brand that believes in authenticity and the core of what its sports, athletes and musicians represent. More than a drink, it's the way of life lived by athletes, sports, bands, believers and fans. See more about Monster Energy including all of its drinks at http://www.monsterenergy.com.