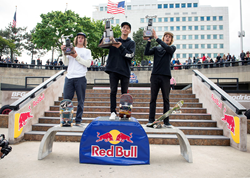 Corona, Calif (PRWEB) May 20, 2016
Monster Energy congratulates team rider Nyjah Huston on taking first place and $35,000 at the 2016 Red Bull Hart Lines street skateboarding competition in Downtown Detroit. In front of a high-energy crowd at Detroit's Hart Plaza, the 21-year-old from San Juan Capistrano, California, excelled against the world's best street skateboarders in a competition focused on trick difficulty and consistent lines. Last year's winner, Monster Energy team rider Curren Caples, earned a strong second place finish on the versatile street course.
Now in its second year, the Red Bull Hart Lines street skateboarding competition paired off 25 of the world's top street skaters in a unique format: Riders take turns attacking the Hart Plaza street course – divided into two "lanes," skated from top to bottom – in an attempt to string together the perfect run.
Despite the occasional snow flurries, the level of skateboarding soared on the flow-oriented course, peppered with transition elements such as bowl corners, wall rides, and banks, next to street-centric obstacles such as gaps, handrails, massive stair sets, and huge hubbas. The key to winning was combining the most difficult tricks and creative transfers into a line without falling, while judges also kept an eye on the riders' speed.
No stranger to quickly stacking difficult tricks into consistent lines, Huston covered the course with technical moves such as crooked grind up the rail, frontside nosegrind on the medium hubba, frontside kickflip over the quarterpipe gap, backside smith on the downhill rail, crooked grind to nollie flip on the bump-to-rail, half cab kickflip into the bank, backside kickflip up the Euro Gap, and backside 270 lipslide down the center section's large rail. For his big ender, Huston pulled a gap-out backside 180 to fakie nosegrind down the big hubba – securing the win and trophy at his first time skating the Hart Lines competition.
Bringing his fast and powerful flow to the Detroit course, Monster's Caples skated with more speed than most competitors and a diverse bag of tricks including: gap-out to frontside nosebluntslide on the big hubba, backside 5-0 on the stair hubba, lien to tailslide and frontside grind on the wall ride, frontside 5-0 grind on the bump-to-rail, and frontside blunt on the huge wall ride won Curren a solid second place finish.
Monster Energy's Chris Cole and Ben Hatchell also competed in the Red Bull Hart Lines competition.
What's next? Nyjah and Curren are at the SLS Nike SB Pro Open 2016 in Barcelona, Spain, this weekend. The two will be joining Monster teammates Chris Cole, Ishod Wair, and Shane O'Neill for the international street skateboarding competition on Skate Agora BDN Barcelona concrete skate plaza. They are battling for SLS Championship points and a chance to win a Golden Ticket straight to the SLS Nike SB Super Crown World Championship in Los Angeles on October 2, 2016. High stakes, high energy – stay tuned!
For more information on Monster Energy Skateboarding, visit http://www.monsterenergy.com. And make sure to tune in this weekend to score all of the exclusive updates from the SLS Nike SB Pro Open 2016 in Barcelona, Spain, including photos, videos, and contest results as they happen. Follow Monster Energy's Facebook, Instagram & Twitter for exclusive behind-the-scenes looks in Barcelona.
About Monster Energy
Based in Corona, California, Monster Energy is the leading marketer and distributor of energy drinks and alternative beverages. Refusing to acknowledge the traditional, Monster Energy supports the scene and sport. Whether motocross, off-road, NASCAR, MMA, BMX, surf, snowboard, ski, skateboard, or the rock and roll lifestyle, Monster Energy is a brand that believes in authenticity and the core of what its sports, athletes and musicians represent. More than a drink, it's the way of life lived by athletes, sports, bands, believers and fans. See more about Monster Energy including all of its drinks at http://www.monsterenergy.com