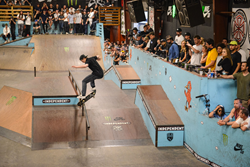 Tampa, Florida (PRWEB) March 07, 2016
Monster Energy congratulates Shane O'Neill on his 1st place finish at legendary Tampa Pro presented by Monster Energy. After a down-to-the wire finals decided on the very last run of the entire contest, the 26-year-old from Melbourne, Australia, walked away with $20,000 and the Monster Energy Golden Ticket to the SLS Nike SB Super Crown World Championship this October.
In front of a capacity crowd at Skate Park of Tampa (Spot), the high-energy finals session saw the world's top street skaters – from Australia, Brazil, Canada, Norway, Russia, and the United States – bring their different styles and approaches to the Team Pain-designed course.
Ultimately, it all came down to which skater could string together a perfect run at this 22nd edition of Tampa Pro – officially skateboarding's longest-running pro competition. Brazil's Carlos Ribeiro looked like a sure winner after stacking a series of technical standouts such as backside overcrook the entire box rail, switch frontside bluntslide the flat rail, and nollie backside 180 to backward nosegrind the ledge for 90.00 points.
But on the last run of the contest, O'Neill landed a perfect run, including 360 kickflip up the box and nollie kickflip into the bank, switch kickflip to frontside boardslide the box rail, nollie kickflip noseslide the flat ledge, bigspin frontside boardslide over the gap rail, nollie backside 180 heelflip down the stairs, an incredibly technical switch big flip to frontside boardslide the rail, and big flip over the hip for 93.00 points – sealing his first-ever win at Tampa Pro.
After the buzzer, he dropped a never-seen-before switch double big flip down the stairs as a victory lap.
Fresh off a Silver medal finish at X Games Oslo, O'Neill rose to the top of the leaderboard during Saturday's qualifiers – going straight to the finals – with highlights such as nollie frontside boardslide the flat rail, nollie frontside 180 heelflip to fakie over the hip, and nollie backside bigger spin down the stair set. Also on Saturday, O'Neill brought his finesse to the Independent Trucks Best Trick contest, winning second place and $2,000 for a highly technical backside bigflip to backward nosegrind down the hubba ledge.
Prior to today's finals, O'Neill's teammate Nyjah Huston emerged from the semi finals in first place with moves such as kickflip frontside boardslide over the gap to rail, half cab kickflip up the box and big flip into the bank, caballerial kickflip the hip, and fakie backside tailslide the handrail. In the finals, Huston landed a gap-out to frontside 5-0 on the rail, 360 kickflip over the box, and frontside feeble revert the flat rail, but the winner of 2014's Tampa Pro closely missed the podium by a few points.
Monster Energy's Ishod Wair qualified for the finals with moves such as high-speed boardslide through the bowl corner, frontside kickflip and nollie heelflip to fakie over the hip, and a huge backside boneless wall plant, but was forced to drop out after injuring his ankle.
Barely missing the finals, Monster Energy's Curren Caples covered the course with backside nosebluntslide across the flat rail, tall alley-oop ollie and alley-oop lipslide on the quarter, frontside nosebluntslide the big box rail, and a huge backside 540 from quarter pipe to bank that sent the crowd into overdrive. Also skating strong, Chris Cole attacked the hubba with a fakie ollie switch frontside crooked and fakie nosegrind revert, and popped a gap out backside lipslide onto the rail.
Now in the second year as the official SLS North American Qualifier, Tampa Pro presented by Monster Energy added two new non-SLS pro skateboarders to Street League: Ribeiro and Canada's Micky Papa are joining the 2016 season after finishing in 2nd and 5th place, respectively. It's a big chance – last year's Tampa qualifier Kelvin Hoefler went all the way from the swamplands of Tampa to winning the prestigious Super Crown Championship. Will history repeat itself this season? Stay tuned as the seventh season of SLS unfolds at tour stops all across the globe.
For full highlights and re-airs of the exclusive webcast visit StreetLeague.com and SkateparkofTampa.com.
Following Tampa Pro, the series will head to Barcelona, Spain, on May 21st and 22nd for the SLS official international qualifier, the SLS Nike SB Pro Open, continuing the SLS mission to install their professional street skateboarding program as a global platform. This stop not only provides an opportunity for the next class of street skateboarders to enter this elite competitive framework, but also brings in a fresh lineup of unknown international talent.
Stay tuned and follow the live broadcasts on streetleague.com. SLS offers options for fans across the world to tune in and watch skateboarding's most prestigious competition series. International fans can watch each event webcasted live exclusively on StreetLeague.com. Fans in the United States can watch SLS on FS1 and customers of participating cable and satellite TV providers may access the live stream through the FOX Sports GO app for iOS, Android, Windows and Kindle devices, as well as on desktops through FOXSportsGO.com.
SLS SEASON DATES AND VENUES:

May 21–22 SLS Nike SB Pro Open | Skate Agora BDN I Barcelona, Spain
July 2 SLS Nike SB World Tour: Munich | Olympic Park | Munich, Germany
August 28 SLS Nike SB World Tour: New Jersey | Prudential Center | Newark, NJ, USA
October 2 SLS Nike SB Super Crown World Championship | Galen Center at USC | Los Angeles, CA, USA
FS1 TELECAST SCHEDULE:
SLS Nike SB Pro Open – Sunday, May 22 (9:30 PM – 11:00 PM ET)
SLS Nike SB World Tour: Munich – Saturday, July 2 (1:30 PM – 3:00 PM ET)
SLS Nike SB World Tour: New Jersey – Sunday, August 28 (5:00 PM – 6:30 PM ET)
SLS Nike SB Super Crown World Championship – Sunday, October 2 (10:30 PM – 12:00 AM ET)
Thanks for following Monster Energy during the 2016 Street League Skateboarding season.
About Monster Energy:
Based in Corona, California, Monster Energy is the leading marketer and distributor of energy drinks and alternative beverages. Refusing to acknowledge the traditional, Monster Energy supports the scene and sport. Whether motocross, off-road, NASCAR, MMA, BMX, surf, snowboard, ski, skateboard, or the rock and roll lifestyle, Monster Energy is a brand that believes in authenticity and the core of what its sports, athletes and musicians represent. More than a drink, it's the way of life lived by athletes, sports, bands, believers and fans. See more about Monster Energy including all of its drinks at http://www.monsterenergy.com.