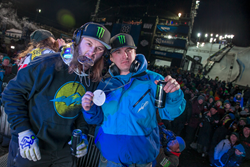 Aspen, Colo (PRWEB) January 23, 2015
Two medals in Snowmobile Speed & Style went to Monster Energy athletes tonight during the largest Thursday night crowd in X Games Aspen history with 16,300 spectators. Joe Parsons took silver and Cory Davis backed him up taking bronze in an evening that saw heated battles and close calls at Buttermilk Mountain at Aspen Snowmass in Aspen, Colorado.
Snowmobile Speed & Style returns to the X Games after taking a brief hiatus in 2014. The Speed & Style event that combines points earned for doing freestyle tricks off of huge jumps with the time it takes to run the course combines the best of both worlds as scores are determined by combining timed-laps around the course (speed) with judged-trick scores (style). Competitors go head to head in bracket-style elimination rounds, with the top-scoring rider advancing.
The most intense action of Snowmobile Speed & Style came with Parsons up against Colten Moore in the finals. Although Parsons threw a stomp flip and had the speed dialed, Moore outscored him in style and finished with a 90.6 to Parsons final score of 83.0.
Monster Energy teammate, Davis took bronze in a final match up against Levi LaVallee beating him in style with a final score of 79.9. Davis had a great start getting the hole shot with LaVallee falling behind and bailing off his snowmobile after a cordova flip, which gave Davis the win.
Parsons has earned an incredible 14 medals in X Games competitions with two of them being gold in Snowmobile Speed & Style. Up next for Parsons and Davis is the Snowmobile Long Jump event.
Check out http://www.monsterenergy.com and http://facebook.com/monsterenergy for more on Parsons, Davis and the rest of the Monster Energy team as they compete in X Games Aspen 2015. The site is loaded with photos and videos straight from Aspen. Follow us on Instagram and Twitter and search #UnleashedAtX for exclusive behind-the-scenes looks in Aspen.
###
About Monster Beverage Corporation:
Based in Corona, California, Monster Beverage Corporation is the leading marketer and distributor of energy drinks and alternative beverages. Refusing to acknowledge the traditional, Monster Beverage Corporation supports the scene and sport. Whether motocross, off-road, NASCAR, BMX, surf, snowboard, ski, skateboard, or the rock and roll lifestyle, Monster is a brand that believes in authenticity and the core of what its sports, athletes and musicians represent. More than a drink, it's the way of life lived by athletes, sports, bands, believers and fans. See more about Monster Beverage Corporation including all of its drinks at http://www.monsterenergy.com.