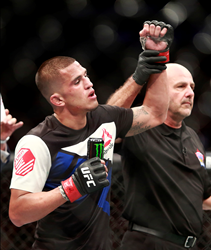 I just took No. 6 in the world. I'm here for one thing and one thing only, that's the belt - Anthony Pettis
Corona, California (PRWEB) August 28, 2016
Monster Energy's Anthony Pettis is back in the win column after beating Charles Oliveira by submission with a third-round guillotine choke at UFC on Fox 21 at the Rogers Arena in Vancouver, British Columbia.
The former UFC lightweight champion made his featherweight debut coming in 10 pounds down and ending a three-fight losing streak by forcing Brazilian Oliveira to tap at the 1:49 of round three.
It's often said that there is no easy fight in the UFC and Oliveira welcomed Pettis with a dedicated takedown attack, Pettis' achilles heel in recent losses. This fight was different however, as Pettis repeatedly found his feet, or reversed the position on the uber-skilled Brazilian submission specialist. It was all Pettis standing, as he delivered punishing body kicks and crisp punches to Oliveira's head and body. He nearly had him finished early in round one, but couldn't quite get it done.
In round two, Oliveira came back, working hard for the rear-naked choke with a full body lock – ultimately Pettis reversed and got back to his feet, landing a spinning kick to the body before the end of the stanza. Round three commenced with another successful takedown for Oliveira and again Pettis found a way back to his stand up. It all changed in the next takedown attempt however, as Pettis caught Oliveira's neck in the scramble and sunk in a deep guillotine for the tap out.
While Pettis acknowledged the new weight class was an adjustment, he looked to possess new strength at featherweight, as Jiu Jitsu specialist Oliveira simply could not control him on the mat. Pettis popped to his feet time after time, and delivered his patented next-level leg and head strikes with flash and fury – indeed it was the return of "Showtime."
"I just took No. 6 in the world," said Pettis. "I'm here for one thing and one thing only, that's the belt."
Pettis is a prolific figure in MMA, collecting 19 MMA wins and five losses. He is one of Monster Energy's elite UFC athletes and fan favorite, along with Conor McGregor, "Rowdy" Ronda Rousey, Donald "Cowboy" Cerrone, Dominick "Dominator" Cruz, Jon Jones, Daniel Cormier, Cain Velasquez, and Chris "All-American" Weidman.
For more on Pettis visit http://www.monsterenergy.com.
###
About Monster Energy
Based in Corona, California, Monster Energy is the leading marketer and distributor of energy drinks and alternative beverages. Refusing to acknowledge the traditional, Monster Energy supports the scene and sport. Whether motocross, off-road, NASCAR, MMA, BMX, surf, snowboard, ski, skateboard, or the rock and roll lifestyle, Monster Energy is a brand that believes in authenticity and the core of what its sports, athletes and musicians represent. More than a drink, it's the way of life lived by athletes, sports, bands, believers and fans. See more about Monster Energy including all of its drinks at http://www.monsterenergy.com.