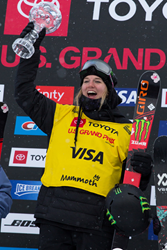 The weather was a little bit tough to deal with, but everyone pushed through that. Going into my second run, I knew I was not in the top spot whatever I did. So I just went out and dropped my new trick I've only done twice before - Cassie Sharpe
MAMMOTH, Calif. (PRWEB) March 12, 2019
Monster Energy congratulates its team of freeski and snowboard halfpipe athletes on a dominating performance at the Toyota U.S. Grand Prix at Mammoth Mountain, California, this weekend. In Women's Freeski Halfpipe, team rider Cassie Sharpe from Canada took first place and the season win with a spectacular run, while Monster Army rider Birk Irving from Colorado claimed a surprise victory in the Men's Halfpipe division. In Men's Freeski Slopestyle, Norwegian slopestyle ace Ferdinand Dahl took second place. The Men's Snowboard Halfpipe final saw Japanese rookie Yuto Totsuka end a breakout season with a win and first place in overall FIS World Cup standings.
As the final event of the International Ski Federation (FIS) 2018/19 Freeski and Snowboarding World Cup season, Mammoth Mountain hosted the world's best winter sports athletes from March 4 – 10. Stakes were high, as this was the last chance to boost FIS World Cup season standings in halfpipe and slopestyle events. Heavy snowstorms blanketing the area all week made for challenging conditions during qualifiers and ultimately led to numerous postponements as well as cancellation of the women's snowboard slopestyle event.
Even dense clouds and gusty winds could not hold back Sharpe in Saturday's Women's Freeski final on the perfectly cut 22-foot superpipe. Fresh off a victory at February's FIS Freeski World Cup event in Calgary, the 26-year-old from Comox, Canada was looking to claim her second career Crystal Globe trophy for the season title.
Facing heat from Estonian rookie Kelly Sildaru, Sharpe put down a run for the freeski history books on her second attempt: Left side 900 into right side 900, followed by a left 1080 into a switch left 360, huge truck driver grab straight into a right side 1080 finisher – the first time a female athlete has landed 1080s both ways in a competition run – earned the reigning Olympic champion 95.60 points and the win.
"The weather was a little bit tough to deal with, but everyone pushed through that. Going into my second run, I knew I was not in the top spot whatever I did. So I just went out and dropped my new trick I've only done twice before. I'm just super happy," said Sharpe upon taking first place on Saturday.
On the strength of her win, Sharpe also climbed to the top of season standings to claim her second consecutive halfpipe World Cup Crystal Globe trophy. The sister of Monster Energy freestyle snowboarder Darcy Sharpe also recently brought home silver at the 2019 FIS Freeski World Championships in Park City, Utah, as well as her second career gold in Women's Ski SuperPipe at X Games Aspen 2019.
Sharpe's Monster Energy teammate Brita Sigourney from Carmel, California, did not get the run she wanted and finished in sixth place in Saturday's Halfpipe event. But the Winter Olympics bronze medalist still wrapped up her season as the 2019 National Champion in Women's Halfpipe.
In the Men's Freeski Halfpipe finals, 19-year-old Irving caused an upset by claiming a surprise victory – his very first World Cup podium – with a stacked run. Unfazed by the competition, the rookie pro from Winter Park, Colorado, stomped a switch left double 1080, right side 900, left side 1080, switch 720 and a massive left double 1260 for 95.20 points on his second attempt.
"It's amazing to finish off the season with my first podium and my first victory," said Irving upon winning first place on Saturday at Mammoth Mountain.
Irving's teammate and two-time Olympic halfpipe gold medalist David Wise closely scraped by the podium and finished in fourth place. Nevertheless, the 28-year-old who also claimed silver in Men's Freeski SuperPipe at X Games Aspen 2019 in January ended his 2018/19 FIS World Cup season in third place overall.
Moving on to Men's Freeski Slopestyle, 20-year-old Scandinavian ripper Dahl from Oppegaard, Norway, put down an epic run despite several postponements and inclement weather. After several days of storms, Sunday finally brought bluebird skies to Mammoth, as Dahl posted a perfect run on his first attempt: Left lipslide 450 pretzel 270 and switch right frontside 360 switchup in the rail section, followed by right rodeo 900 Japan, switch right 270 back 270 Misty 900, switch left double 1080 safety grab and switch right double 1080 mute earned him 86.05 points and a strong second place finish. Dahl also emerged in second in overall 2018/19 FIS World Cup rankings after a strong season in which he already claimed slopestyle bronze at X Games Aspen 2019 in January.
In Women's Freeski Slopestyle, Sarah Hoefflin from Switzerland had to settle for fourth place after struggling to clinch a perfect run. But ultimately, her FIS World Cup points secured the 28-year-old from Geneva the lead in current overall season rankings with 900 points. She will be gunning for a Crystal Globe at the final World Cup slopestyle competition in Silvaplana, Switzerland on March 30 after a fantastic 2018/2019 season for the reigning Olympic Gold medalist who also took home slopestyle silver at X Games Aspen 2019.
In the Men's Snowboard Halfpipe event, 17-year-old rookie pro Totsuka from Yokohama, Japan, ended his season with a banger. Despite wind and low visibility, the latest addition to the Monster Energy snowboarding team came through with his signature blend of high aerials and technical precision.
On his last attempt, Totsuka found the perfect line by posting a massive frontside 900 melon, backside 900 mute, frontside 1080 tailgrab, Cab 1080 double grab (nose and tail) and spectacular frontside double cork 1440 Indy finisher for a 95.75-point score and first place. He also ended the 2018/19 season by claiming the 18-pound Crystal Globe trophy for the second year in a row with 3,760 total points, far ahead of fellow Japanese freestylist Ruka Hirano in second place at 2,410 points.
"I'm so happy, today was amazing. The pipe was so good. This was the best season of my life and I'm so happy to win today and to get the crystal globe again," said Totsuka on taking first place in Mammoth Mountain on Saturday.
Despite his young age, Totsuka has emerged as a constant podium threat over the past two years. He claimed podiums in the last eight of nine FIS World Cup events entered. This season's highlights included back-to-back silver medals at X Games Aspen 2019 and the 2019 FIS Snowboard World Championships, plus a gold medal at the recent FIS Snowboard World Cup in Calgary.
Download photos for editorial use.
Thank you for following Monster Energy freeski and snowboarding through an amazing season and once again congratulations to all our riders on their 2018/19 FIS World Cup season performances.
Visit http://www.monsterenergy.com and follow Monster Energy on Facebook, Instagram, Twitter for exclusive updates on our Freeski athletes.
About Monster Energy
Based in Corona, California, Monster Energy is the leading marketer and distributor of energy drinks and alternative beverages. Refusing to acknowledge the traditional, Monster Energy supports the scene and sport. Whether motocross, off-road, NASCAR, MMA, BMX, surf, snowboard, ski, skateboard, or the rock and roll lifestyle, Monster Energy is a brand that believes in authenticity and the core of what its sports, athletes and musicians represent. More than a drink, it's the way of life lived by athletes, sports, bands, believers and fans. See more about Monster Energy including all of its drinks at http://www.monsterenergy.com.