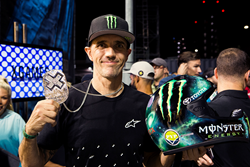 I think sometimes you forget that BMX is fun and competing is one of the greatest things in the world. The best feeling is to win the gold, but sometimes you have to do some things for yourself and I just went out there and rode and had a great time - Jamie Bestwick
MINNEAPOLIS (PRWEB) July 20, 2018
Monster Energy congratulates Jamie Bestwick on his silver medal at X Games Minneapolis on Thursday night for his efforts on the BMX vert ramp. In a repeat performance from last year, the BMX pioneer rode late into the night giving the massive crowd confirmation that he is still at the top of his game.
Though it rained for most of the day in Minneapolis it wasn't enough to hamper competition as crews worked a low-tech, but proven strategy for drying the vert ramp. Using leave blowers to evaporate the moisture from the wooden composite, by the time the riders lined up for competition conditions were suitable for take off. And for the legendary Bestwick it was his first run that launched him onto the podium.
Rallying the giant crowd atop the 14-foot ramp he pumped his clenched fist in the air and dropped in with all the power and excitement of a man who has dedicated his life to the progression of BMX riding. Starting things off with an alley-oop turndown, Bestwick then set himself up with a no hander before launching into two of the biggest tricks of the evening with a Superman down whip into a massive alley-oop 540 that he spun off axis, essentially flattening out during the rotation. Mixing up the rest of his run with unique tricks like a candy bar and a fast-plant flair it was clear that the he was not ready to hang up his bike just yet. Between his timeless style, consistent height, and trick selection it was undoubtedly a podium worthy run.
When his score came in at a solid 88.00 you could see him nod his head in approval as if to say, "I'll take it."
As the night wore on Bestwick came out hot on his second run with one of the highest airs of the night, yet fumbled on subsequent tricks and in turn played around with some coping tricks giving the crowd a bit of showmanship as well as humor as he forfeited his final run.
"It was a long day today, said Bestwick. "We didn't get started until around 10:30 pm and went a little late so I am not going to lie, I was a bit tired up there, but we got it done against all of the rain and increment weather that's been happening today. We had a great vert final and I came away with a silver medal. You know that is the fruits of not getting your magic tricks out, but tonight was just one of those nights and I had a blast. And I think sometimes you forget that BMX is fun and competing is one of the greatest things in the world. The best feeling is to win the gold, but sometimes you have to do some things for yourself and I just went out there and rode and had a great time. This was another great day at X Games — there was some great riding and a really nice crowd."
Bestwick, who at the age of 47 is the undisputed king of vert in the sport of BMX adds this silver medal to his X Games resume, one that already includes 14 gold, 3 silver, and 1 bronze. Legendary.
Download photos for editorial use.
ESPN and ABC will televise a combined 19 hours of live X Games Minneapolis 2018 coverage, reaching more than 500 million homes and viewers in 192 countries and territories. X Games Minneapolis coverage will also be accessible via the ESPN App to viewers who receive their video subscription from an affiliated provider.
Don't miss out on the action in the Twin Cities. Score all the exclusive updates from X Games Minneapolis 2018 including photos and contest results as they happen visit http://www.monsterenergy.com. Follow Monster Energy on YouTube, Facebook, Instagram & Twitter, and watch the official Monster Energy hashtag #unleashedatx on social media.
###
About Monster Energy
Based in Corona, California, Monster Energy is the leading marketer and distributor of energy drinks and alternative beverages. Refusing to acknowledge the traditional, Monster Energy supports the scene and sport. Whether motocross, off-road, NASCAR, MMA, BMX, surf, snowboard, ski, skateboard, or the rock and roll lifestyle, Monster Energy is a brand that believes in authenticity and the core of what its sports, athletes and musicians represent. More than a drink, it's the way of life lived by athletes, sports, bands, believers and fans. See more about Monster Energy including all of its drinks at http://www.monsterenergy.com.