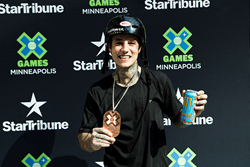 This was just a warm up for Sydney. Believe me, I'm going to do all I can to bring home the gold for my team in Australia. - Kyle Baldock
MINNEAPOLIS (PRWEB) July 22, 2018
Monster Energy congratulates Kyle Baldock for his impressive showing at X Games Minneapolis 2018 where on Sunday afternoon he took home a bronze medal in the BMX Park event. Baldock, who won gold at last year's Dave Mirra's Best Trick brought everything he had to the competition, riding with a passion and intensity all his own.
With over 100,000 fans passing through the gates this weekend, Sunday's final event, the BMX Park Final, sent X Games Minneapolis 2018 off with a bang. And who better than Baldock to give the crowd what they wanted. Long known for dedicating, not only his contest performances, but essentially his entire career to the fans in hopes of inspiring the next generation to pursue their dreams, Baldock rides with a purpose as unique as the man himself. Today he continued to evolve the future of BMX with his bag of tricks. Wasting no time, it was the 27-year-old's first run that would ultimately land him on the podium.
After - the signal to drop he headed straight for the island jump in the middle of the course throwing down a 720 tail whip in his signature powerful style. Then, pumping for speed he raced around the bowls before flying up the massive plexiglass wall into a stalled out foot-jam. Upon a smooth re-entry he continued to work the transitions before unloading a barrage of tricks starting with a downside tail whip, a flair and a switch flair over the channel before finishing out his run with a flip-to-fakie.
Thoroughly exhausted yet with a giant smile on his face, Baldock waited for the scores to be tallied atop the course next to fellow Monster Energy teammate Kevin Peraza. All said and done he was awarded an 88.66, a score that held up for two remaining runs earning him a bronze medal.
Afterwards he explained, "I was just looking for consistency and big tricks all put together. I really just tried to use the entire bowl to its full advantage."
Though, it's toward the future that really got the Australian's blood moving. As it was recently announced that X Games Sydney will take place later this year, Baldock was beaming with excitement.
"This was just a warm up for Sydney," said Baldock. "Believe me, I'm going to do all I can to bring home the gold for my team in Australia!"
X Games Sydney debuts October 19-21.
Download photos for editorial use.
ESPN and ABC will televise a combined 19 hours of live X Games Minneapolis 2018 coverage, reaching more than 500 million homes and viewers in 192 countries and territories. X Games Minneapolis coverage will also be accessible via the ESPN App to viewers who receive their video subscription from an affiliated provider.
Don't miss out on the action in the Twin Cities. Score all the exclusive updates from X Games Minneapolis 2018 including photos and contest results as they happen visit http://www.monsterenergy.com. Follow Monster Energy on YouTube, Facebook, Instagram & Twitter, and watch the official Monster Energy hashtag #unleashedatx on social media.
###
About Monster Energy
Based in Corona, California, Monster Energy is the leading marketer and distributor of energy drinks and alternative beverages. Refusing to acknowledge the traditional, Monster Energy supports the scene and sport. Whether motocross, off-road, NASCAR, MMA, BMX, surf, snowboard, ski, skateboard, or the rock and roll lifestyle, Monster Energy is a brand that believes in authenticity and the core of what its sports, athletes and musicians represent. More than a drink, it's the way of life lived by athletes, sports, bands, believers and fans. See more about Monster Energy including all of its drinks at http://www.monsterenergy.com.