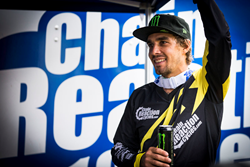 It feels awesome to grab my first ever win at an EWS, and especially to do it while batting with a hero of mine, Nico Vouilloz. The stages were really challenging so I tried to stay focused as much as possible and limit my mistakes. Sam Hill
Valberg, France (PRWEB) September 19, 2016
Monster Energy's Sam Hill, Australia, takes home his first ever Enduro World Series (EWS) title in Valberg, France.
Located about an hour from Nice, France, Valberg is home to soaring mountains and wild weather. Black clouds threatened all week, but the rain held off for the most part, and kept racing even across the board as racers battled through alpine meadows and steep-mountain passes in what will go down as one of the most physically demanding Enduro World races.
At one of the biggest races of the year, Hill endured three-plus hour liaison stages and over 12,000' of climbing over two days followed by massive descents and snatched the win by nine seconds from another legendary downhiller, Nicolas Vouilloz of France.
"It feels awesome to grab my first ever win at an EWS, and especially to do it while batting with a hero of mine, Nico Vouilloz," said Hill. "The stages were really challenging so I tried to stay focused as much as possible and limit my mistakes."
A big victory for Hill since this was only his fourth Enduro World Series event after crossing over from the Downhill World Cup Series where he placed 2-2-7 and first with today's win in the four races. He was also one of the only professional racers on flat pedals giving him a distinct disadvantage on the longer climbs vs. his clipped-in opponents, but he remains committed to having fun on his flats.
Following a disappointing finish in the Whistler EWS, Hill decided to change up his strategy going into Valberg.
"My main focus was to try and attack every stage," said Hill. I learnt from Whistler that I couldn't ride safe if I wanted to win. So I just kept pushing as much as I could. Today was hard being in the lead and I didn't want to throw it away, but I couldn't back off either because Nico kept the pressure on the whole race."
Hill's long time friend and mechanic, Jacy Shumilak was just as excited for the win. "I think it's been really impressive how quickly he's picked up the discipline," said Shumilak. There's more to it than just going flat out. It's two days of riding and you've got to save yourself as well as your equipment in order to be on top."
After having competed in only four of the seven events so far this season, Hill now sits in 14th place heading to Round 8 in Finale Ligure, Italy on October 1 – 2 for the final Enduro World Series event of the year. The Australian will battle for a potential top three overall finish on the picturesque Italian coast where steep mountains meet the Italian Riviera and the Mediterranean Sea
For more on Hill and the rest of the Monster Energy team visit monsterenergy.com and make sure to follow Monster Energy's Facebook, Instagram & Twitter for exclusive updates.
###
About Monster Energy:
Based in Corona, California, Monster Energy is the leading marketer and distributor of energy drinks and alternative beverages. Refusing to acknowledge the traditional, Monster Energy supports the scene and sport. Whether motocross, off-road, NASCAR, MMA, BMX, surf, snowboard, ski, skateboard, or the rock and roll lifestyle, Monster Energy is a brand that believes in authenticity and the core of what its sports, athletes and musicians represent. More than a drink, it's the way of life lived by athletes, sports, bands, believers and fans. See more about Monster Energy including all of its drinks at http://www.monsterenergy.com.