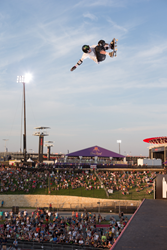 Austin, Texas (PRWEB) June 06, 2015
Monster Energy congratulates team rider Tom Schaar on a solid Bronze medal finish today at X Games Austin 2015. In a no-holds-barred final that boiled down to a showdown between the world's best Big Air skateboarders, the 15-year-old prodigy bagged his 4th career X Games medal at Circuit of The Americas (COTA).
Prior to today's final, Schaar qualified first in Prelims, determined to defend last year's X Games Big Air championship title with a perfect run combining a backside 720 over the 63-feet gap with a perfect 900 on the monstrous 27-feet high quarterpipe.
Locking in another solid 720-into-900 combo early in the finals, Schaar saw X Games veteran Bob Burnquist take the lead with a 93.33-point routine. Stepping to the challenge, Tom Schaar pulled a flawless backside 720 over the gap, followed by a never-before-seen stalefish 900 on the quarterpipe, but became unglued on the landing, leaving Burnquist in first place.
Despite his young age, Schaar has emerged as a competitive force to be reckoned with: Having cut his teeth as a local rider at Skatelab skate park in Simi Valley, Schaar began turning heads on the ramp skating circuit early on. At age 10, he became the youngest skateboarder to land a 720 in 2010, only to make history one year later as the first in history to land a 1080 aerial.
At the 2013 X Games in Munich, Schaar took home Bronze to become the youngest X Games Big Air medallist in contest series history, while last year's X Games Austin added "youngest Big Air Gold medallist" to his growing list of accolades.
But there's more to Schaar than big air skating and besting competitors twice his age. With his recent victory at the 2015 Vans Pool Party contest in May, beating the world's biggest names in deep bowl skateboarding, the next-generation prodigy and competitor proved that he is no longer gunning for "youngest" – but best in the game.
Stay tuned for more Monster Skateboarding at X Games Austin 2015, including tomorrow's Skateboard Park event when Schaar joins teammates Curren Caples, Raven Tershy, Ben Hatchell, and Rune Glifberg to prove that he's got a much bigger bag of tricks than just big air chops.
For more on Monster Energy X Games Austin 2015 competing athletes including exclusive photos and daily recaps, check out http://www.monsterenergy.com, http://www.monsterenergy.com/facebook/ and #unleashedatx.
###
About Monster Energy:
Based in Corona, California, Monster Energy is the leading marketer and distributor of energy drinks and alternative beverages. Refusing to acknowledge the traditional, Monster Energy supports the scene and sport. Whether motocross, off-road, NASCAR, MMA, BMX, surf, snowboard, ski, skateboard, or the rock and roll lifestyle, Monster Energy is a brand that believes in authenticity and the core of what its sports, athletes and musicians represent. More than a drink, it's the way of life lived by athletes, sports, bands, believers and fans. See more about Monster Energy including all of its drinks at http://www.monsterenergy.com.