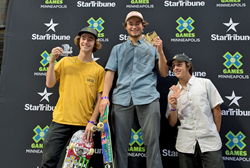 Minneapolis, MN (PRWEB) July 16, 2017
[Monster Energy congratulates Tom Schaar on taking second place in the Toyota Men's Skateboard Park event today at X Games Minneapolis 2017. Facing competition from the world's best park terrain skateboarders, the 17-year-old from Cardiff, California, took the podium at the X Games premiere in the Twin Cities in front of a high-energy crowd. Having already claimed second place in last night's America's Navy Big Air competition, Schaar also made history as the first skateboarder to win medals in both events at the same Games.
Schaar came into the Skate Park competition as a wildcard. Known as a regular challenger in the Big Air event since his X Games premiere five years ago, he still had to earn his way into the X Games Skate Park finals by qualifying at the Road to X Boise Qualifier in June, which he won. Now Schaar had to prove his park skateboarding skills against the world's leading park riders on the California RampWorks-designed concrete park at U.S. Bank Stadium in downtown Minneapolis.
Rising to the challenge, Schaar put together a flawless first run, featuring frontside Smith grind over the love seat, transfer to frontside tailslide on the extension, high-flying backside 540 aerial in the deep end, tweaked frontside stalefish on the extension, backside bigspin disaster, frontside ollie blunt, backside lipslide and a backside 360 air transfer over the bump for 86.00 points and an early lead. When Alex Sorgente rose to the top of the leaderboard, Schaar increased the level of difficulty with technical moves including kickflip Indy air into the extension, but could not string together another flawless routine to claim back the top spot.
Today's silver medal – his first in the Skate Park event – brings Schaar's X Games medal count to seven; one gold, three silver, and three bronze medals. Schaar started competing at X Games in 2012 and made history as the first skateboarder to land a 1080 aerial at the age of 12 that same year. He has since matured from child prodigy into a top competitor in Big Air as well as Skateboard Park, a discipline in which 2017 marks his strongest season to date: Schaar won the annual Vans Pool Party contest in Orange, California, for the second time in May and is currently sitting on top of the Vans Park Series Pro Tour Challenger rankings.
Also stoking the crowd today with a strong performance, Monster Energy's Trey Wood from Queen Creek, Arizona, landed a high-flying frontside air transfer over the top of the extension, 360 Indy air transfer over the bump, egg plant and huge backside 540 in the deep end. Wood's Monster Energy teammate Ishod Wair, known for his street skating chops and 2013 Thrasher Magazine Skater of the Year title, made his premiere in the Park event today with highlights including huge frontside nosebone air transfers, frontside feeble grind through the bowl corner and backside crailslide and lien to tail in the deep end.
Monster Energy's Raven Tershy from Santa Cruz – winner of 2011's X Games Skate Park event – brought his signature combination of powerful airs and technical lip tricks to X Games Minneapolis, landing extended backside Smith grinds to tailslide in the deep end, huge frontside air transfers, and high-speed frontside nosegrind through the corner.
His teammate and four-time X Game medalist Ben Hatchell from Manassas, Virginia, landed backside ollie transfers into the Viking ship ramp, kickflip frontside air, and half cab frontside nosegrind to fakie over the hip in one of the best Skate Park finals in X Games history.
Download Photos for Editorial Use.
To score all the exclusive updates from X Games Minneapolis 2017 including photos and contest results as they happen visit http://www.monsterenergy.com. Follow Monster Energy on YouTube, Facebook, Instagram & Twitter.
###
About Monster Energy
Based in Corona, California, Monster Energy is the leading marketer and distributor of energy drinks and alternative beverages. Refusing to acknowledge the traditional, Monster Energy supports the scene and sport. Whether motocross, off-road, NASCAR, MMA, BMX, surf, snowboard, ski, skateboard, or the rock and roll lifestyle, Monster Energy is a brand that believes in authenticity and the core of what its sports, athletes and musicians represent. More than a drink, it's the way of life lived by athletes, sports, bands, believers and fans. See more about Monster Energy including all of its drinks at http://www.monsterenergy.com