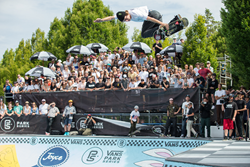 Vancouver, Canada (PRWEB) July 11, 2017
Monster Energy congratulates team rider Tom Schaar for taking third place at the Vans Park Series Men's Pro Tour competition at Hastings Park in Vancouver, Canada, on Saturday. In a heated finals session streamed live across the globe, the 17-year-old from Malibu, California, landed a perfect routine stacked with difficult technical tricks and high-flying aerials for a spot on the podium. The third place finish maintains Schaar's lead in the current Vans Skate Park Series Pro Tour Challenger Rankings as the top qualifier for the World Championships.
For the second year in a row, the Vans Park Series (VPS) showcases the world's best park skating. As the official world championship of the sport, it attracts hundreds of riders from all over the globe to compete in ranked events at skate parks in locations such as Brazil, Canada, Europe, and the United States. The action will culminate on September 23, when the season's top-ranking skateboarders battle it out in the Vans Pro Skate Park Series World Championship in Shanghai, China.
Today's event took place at Vancouver's freshly remodeled Hastings Skatepark featuring three connected bowls from five to eleven feet deep. As the current leader in 2017 Vans Skate Park Series Rankings, Schaar came in as a top competitor, having recently won the Road to X Games qualifier event in Boise, Idaho, as well as the first Vans Park Series stop, and the 13th annual Vans Pool Party contest in Orange, California.
The recipe for reaching the podium in Vancouver consisted of packing as many difficult tricks as possible into a 40-second run, while covering the entire sprawling concrete park at high speed. With Sweden's Karl Berglind taking an early lead by landing a world-class run, the pressure was on Schaar to rise to the challenge.
No stranger to high-pressure situations, Schaar put together a flawless line on his first final run, starting with a high-flying alley-oop Indy air over the hip, followed by frontside tailslide, backside ollie over the hip, backside 540 and frontside feeble grind in the deep end, alley-oop backside ollie over the deep end hip, backside tailslide, huge frontside stalefish, frontside lipslide and a kickflip varial Indy for a 86.51 point score. It remained Schaar's highest score of the day, as he came short of landing another flawless run, finishing in third place with Brazil's Pedro Barros taking the win.
Also making a strong appearance in Vancouver, Schaar's Monster Energy teammate Trey Wood stacked his final runs with highlights including alley-oop frontside air, kickflip lien melon, and huge kickflip stalefish over the hip, 360 Indy air transfer from bowl to bowl and big body jar in the deep end for a seventh place finish. Meanwhile, Monster Energy's Vinicius Kakinho from Brazil showed he can roll with the pros, blasting big backside and frontside airs over the hip, covering the walls with frontside boneless and frontside nosegrind to pop-out, followed by technical moves such as heelflip Indy air and backside Smith grind revert in the deep end. His performance in Vancouver lands the upcoming amateur skater a Top 10 spot in the overall tour rankings.
Speaking of rankings, reaching the podium in third place in Vancouver maintains Schaar's lead in the 2017 Vans Park Series Pro Tour Challenger standings at 30,000 points.
Sitting at the top of the leader board 7,200 points ahead of the next competitor secures Schaar a likely spot in the World Championships in Shanghai next September. Teammates Wood and Kakinho, currently ranked eighth and ninth, respectively, also still have a shot at making the top five cut into the World Championships.
With only one more Park Series event to go before the World Championships, it will all be decided at the U.S. Open in Huntington Beach on July 30. This week, also make sure to catch Schaar, Wood, and the rest of the Monster Energy skate team at X Games Minneapolis 2017 from July 13-16.
For more information visit http://www.monsterenergy.com and make sure to follow Monster Energy's Facebook, Instagram & Twitter for exclusive updates from the 2017 Vans Park Series.
###
About Monster Energy
Based in Corona, California, Monster Energy is the leading marketer and distributor of energy drinks and alternative beverages. Refusing to acknowledge the traditional, Monster Energy supports the scene and sport. Whether motocross, off-road, NASCAR, MMA, BMX, surf, snowboard, ski, skateboard, or the rock and roll lifestyle, Monster Energy is a brand that believes in authenticity and the core of what its sports, athletes and musicians represent. More than a drink, it's the way of life lived by athletes, sports, bands, believers and fans. See more about Monster Energy including all of its drinks at http://www.monsterenergy.com.