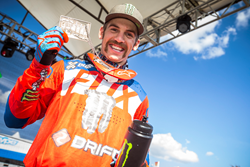 Austin, Texas (PRWEB) June 07, 2015
Monster Energy's Josh Sheehan takes bronze in the inaugural Moto X QuarterPipe event at X Games Austin 2015. In front of the high-energy crowd at Circuit of The Americas (COTA) in Austin, the 29-year-old from Donnybrook Australia took his second career X Games medal.
The X Games has always been about progression, and the introduction of the first-ever Moto X QuarterPipe event is an example of just that. Combining a quarter-pipe ramp like you'd find in BMX or Skateboard competitions with freestyle motocross, the only rules were that each competitor would get two attempts, and in order for the trick to really count, they had to ride it out.
Monster Energy's multiple time Freestyle Moto X gold medalist Taka Higashino was forced out of the event with a fractured foot, leaving it up to his Monster Energy teammate, Australia Josh Sheehan, too hold down the fort.
Sheehan recently made headlines by becoming the first person ever to successfully land a triple-backflip on a motorcycle, so there's no doubt that he's not afraid to push progression, and in Moto X QuarterPipe round one, Sheehan became the first competitor to actually land his trick – a Flair, combined with a Superman Indian-Air. Sheehan scored a solid 85.33 in round one, putting him second overall headed into round two.
The Flair is a BMX trick invented by BMX legend Mat Hoffman, and in round two, Sheehan pushed his trick even further, landing the same trick, but with higher amplitude, leading to a better score of 87.33.
In the end, his pairing of a legendary BMX trick in a BMX-inspired event landed him the bronze in the first-ever Moto X QuarterPipe event. It was his second X Games medal, following the bronze he got in Moto X Best Trick at X Games Los Angeles in 2011.
For more on Monster Energy X Games Austin 2015 competing athletes including exclusive photos and daily recaps, check out http://www.monsterenergy.com, http://www.monsterenergy.com/facebook/ and #unleashedatx.
###
About Monster Energy:
Based in Corona, California, Monster Energy is the leading marketer and distributor of energy drinks and alternative beverages. Refusing to acknowledge the traditional, Monster Energy supports the scene and sport. Whether motocross, off-road, NASCAR, MMA, BMX, surf, snowboard, ski, skateboard, or the rock and roll lifestyle, Monster Energy is a brand that believes in authenticity and the core of what its sports, athletes and musicians represent. More than a drink, it's the way of life lived by athletes, sports, bands, believers and fans. See more about Monster Energy including all of its drinks at http://www.monsterenergy.com.