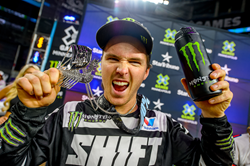 Minneapolis, MN (PRWEB) July 16, 2017
Monster Energy sends congratulations to Jackson Strong for his efforts in the Moto X Best Tick Finals at the inaugural X Games Minneapolis. Narrowly missing the top spot, the wild man from Australia gave the crowd their money's worth with a stellar silver medal showing.
Inside the new venue of X Games, the US Bank Stadium hosted the worlds top riders who gathered to show off their latest stunts in the ever progressing sport of Freestyle Moto X. Tonight's competition, Best Trick, was a go-for-broke display of both skill and daring, a combo that proved mind blowing at the very least. With riders given two shots at glory, judges award points based on the overall difficulty of the trick as well as execution.
Up against fellow Monster Energy athletes Josh Sheehan, Taka Higashino and Harry Bink, as well as high-level threats Clinton Moore and Levi Sherwood, "Jacko" had his work cut out for him as finals got underway.
Like everything he does, Strong took a different approach, opting out of the straight jumps the rest of the guys were hitting, and instead lining up for the near vertical ramp adjacent to the landing zone. Riding with a broken wrist, it came as a shock that he was setting up for a trick he attempted last year in Austin but was unable to ride away from due to the violent impact of his landing.
This year was a different story however, and as he raced into the ramp the crowd held its collective breath because at least some of them knew what was coming. Gunning it up the vertical jump as his front tire left the ramp he leaned back and gave the bike everything he had, pulling it around not once, but twice backwards as he soared towards the roof of the venue. As the crowd witnessed this absolutely massive double backflip they lost it completely. It was a jump unlike any seen in the competition.
"For me that trick has been an ongoing battle for a couple of years now," said Strong. "The way it lands it's like being dropped out of the sky, so the impact is huge."
But this year he did land it and because of his sideways drift rode out into the wall of the neighboring mound of dirt. Dropping his bike in elation he looked for the nearest item he could get his hands on, in this case a Minnesota Vikings flag and ran to the top of the dirt, waving it wildly above his head as the crowd went crazy.
Though in the judges eyes it wasn't enough for first, he won the crowd over, and maybe more importantly put this dangerous trick behind him.
"Either way," he said. "If you land it or if you don't, it's going to hurt!"
"So I'll pat myself on the back now, put this one away and I look forward to moving on to something new."
Rest assured, for Strong, that "something new" will certainly be progressive, original and perhaps, all together terrifying.
Download Photos for editorial use only.
ESPN and ABC will televise a combined 18.5 hours of live X Games Minneapolis 2017 coverage, which will also be accessible via the ESPN App to viewers who receive their video subscription from an affiliated provider.
To score all the exclusive updates from X Games Minneapolis 2017 including photos and contest results as they happen visit http://www.monsterenergy.com. Follow Monster Energy on YouTube, Facebook, Instagram & Twitter.
###
About Monster Energy
Based in Corona, California, Monster Energy is the leading marketer and distributor of energy drinks and alternative beverages. Refusing to acknowledge the traditional, Monster Energy supports the scene and sport. Whether motocross, off-road, NASCAR, MMA, BMX, surf, snowboard, ski, skateboard, or the rock and roll lifestyle, Monster Energy is a brand that believes in authenticity and the core of what its sports, athletes and musicians represent. More than a drink, it's the way of life lived by athletes, sports, bands, believers and fans. See more about Monster Energy including all of its drinks at http://www.monsterenergy.com.