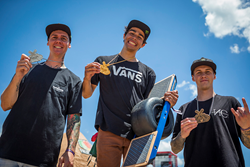 It's unreal. To even be an invited rider at X Games is a dream come true but to win?! It hasn't sunk in yet - Kevin Peraza
Austin, Texas (PRWEB) June 06, 2016
Monster Energy athletes swept all three medals in BMX Dirt at the X Games Austin 2016 with Kevin Peraza taking his first X Games medal with the gold, Ben Wallace snagged his second silver in the discipline and James Foster rode away with the bronze.
After a full week of crazy thunderstorms, flash floods and the threat of lightening, the sun came out in full force for the Intel BMX Dirt event at the Circuit of the Americas COTA venue in Austin, Texas. Though some slight winds did pass through keeping it interesting for the competitors.
From the beginning it was the young Peraza's contest to lose. As the most consistent rider of the day, the Arizona native put down the strongest lines of his X Games career. With tricks like a huge 360 to late tail whip, it was Peraza's fluid style that set him apart from the rest of the field. The victory was finalized however with an absolutely savage lawn dart front flip he blasted on the last and final jump of the course sending the crowd into a frenzy.
Unable to contain his stoke, Peraza then set his bike down looked to the sky and yelled, "Oh my God! Send it!"
"It's unreal," he later said. "To even be an invited rider at X Games is a dream come true but to win?! It hasn't sunk in yet."
Meanwhile, teammate Ben Wallace brought his knack for explosive airs to the track throwing down some mind -bending combos including a 360 bar-spin to late downside tail whip to end a line of technical airs. Earning a score of 81.00 it was enough to secure silver.
Rounding out the podium with his second career X Games Bronze was the ever inventive and always entertaining riding of James Foster who threw in some never before done tricks like his signature suicide whip.
"I gave it everything I had and just tried to do some stuff that no one else does, but the wind definitely made it a bit sketchy today," said Foster.
Meanwhile Monster Energy teammates Pat Casey took fourth place, and Kyle Baldock went for it on his last run, but ultimately failed to place due to a crash on a rowdy front flip bar spin.
This makes a total of six medals for Monster BMX athletes at X Games Austin 2016 including an impressive three gold confirming their commitment to progressing the sport.
For more visit http://www.monsterenergy.com and Monster Energy Facebook this week to score all the exclusive updates from X Games Austin 2016 including photos, videos, and contest results as they happen. Follow us on Instagram and Twitter and search #UnleashedAtX for exclusive behind-the-scenes looks in Austin.
For interview or photo requests contact Kim Dresser.
###
About Monster Energy
Based in Corona, California, Monster Energy is the leading marketer and distributor of energy drinks and alternative beverages. Refusing to acknowledge the traditional, Monster Energy supports the scene and sport. Whether motocross, off-road, NASCAR, MMA, BMX, surf, snowboard, ski, skateboard, or the rock and roll lifestyle, Monster Energy is a brand that believes in authenticity and the core of what its sports, athletes and musicians represent. More than a drink, it's the way of life lived by athletes, sports, bands, believers and fans. See more about Monster Energy including all of its drinks at http://www.monsterenergy.com.