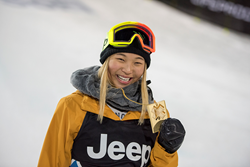 ASPEN, Colo. (PRWEB) January 18, 2019
Monster Energy, the official energy drink partner of X Games, is proud to announce its team of world-class athletes ready to compete at X Games Aspen 2019 at Buttermilk Mountain in Aspen, Colo. The world's premiere action sports competition will unfold from January 24 - 27, 2019. Monster Energy athletes will hit events across Skiing, Snowboarding, Snowmobiling, and the exciting Snow Bike.
Now in its 18th consecutive year in the heart of the Rocky Mountains, X Games Aspen will be the center of the snow sports world for four action-packed days. With live coverage on ESPN, ESPN2 and ABC as well as digital X Games properties, the 2019 event will again feature action sports competitions, world-class musical performances and a festival village. All action sports and festival elements will be free to the public, while ticketed musical performances include Lil Wayne, The Chainsmokers and Kygo.
Monster Energy's unrivaled roster includes athletes across the spectrum of Snowboard, Freeski, Snowmobile, Snow Bike and new for this year, Snowboard Knuckle Huck, Adaptive Snow BikeCross and Para Snow BikeCross disciplines.
X Games is the height of winter competition, so the invite-only event is reserved for multiple-time X Games medalists and upcoming pros in order to keep the level of riding world class. Visit monsterenergy.com for a full list of invitees and watch out for the following key Monster Energy athletes, including numerous defending gold medalists:
In Snowboarding, all eyes will be on Monster Energy's Chloe Kim as she defends her X Games gold medal in the Women's SuperPipe event. The 18-year-old snowboard phenom made history as the youngest woman to win an Olympic snowboarding medal at the 2018 Winter Olympics, and is looking for her fifth X Games gold medal in Aspen. In Men's Snowboard SuperPipe, tech-style wunderkind Iouri Podladtchikov is gunning for his fifth medal after missing the podium last year.
When the action moves into Men's Snowboard Slopestyle, last year's silver medalist Darcy Sharpe is considered a major podium threat. He will be joined by a stacked roster of Monster Energy athletes including Sven Thorgren, Sebbe De Buck, five-time X Games medalist Ståle Sandbech from Norway and Finland's newest snowboard star Rene Rinnekangas.
In Women's Snowboard Slopestyle, the smart money is on 15-time X Games medalist and winner of last year's event Jamie Anderson. Having never missed the podium in X Games Slopestyle since she started competing in 2006(!), Anderson will also be looking to upgrade 2018's bronze medal in Snowboard Big Air.
Prepare for stylish stunts in the Men's Snowboard Big Air event by Ståle Sandbech who has medaled twice in the discipline at previous Winter X Games, and also be on the look out for Darcy Sharpe, Sebbe De Buck, Sven Thorgren, and Carlos Garcia Knight.
As a brand-new discipline, X Games Aspen 2019 will premiere Snowboard Knuckle Huck. In a jam session celebrating style and creativity, riders hit the Big Air course's roll over section, also called knuckle, to catch spectacular airs with contenders including Kevin Backstrom, and Olympic medalist Sage Kotsenburg.
Let's move on to Men's Freeski Superpipe where defending gold medalist David Wise from Reno, Nevada, is the man to beat. Known for his deep bag of technical tricks including multi-directional double corks, Wise took superpipe gold at the 2018 Winter Olympics and holds four X Games gold medals in the event. Also look out for Olympic silver medalist Gus Kenworthy, who is looking for his first X Games gold medal, and upcoming Monster Army rider Birk Irving.
In the Women's Freeski Superpipe event, two Monster Energy riders are defending podium spots and looking for X Games gold: California's Brita Sigourney claimed silver with a stellar performance at X Games Aspen 2018, while teammate Cassie Sharpe from Canada took bronze. They will be joined by superpipe legend and two-time Olympic silver medalist Devin Logan in what promises to be a showdown for the ages.
When it comes to Men's Ski Slopestyle, Monster Energy dominates the field with a total of six athletes, including last year's gold medalist Henrik Harlaut. Otherwise known as a five-time X Games Ski Big Air gold medalist, Harlaut pulled a double-whammy last year when he took the top spot in both Slopestyle and Big Air. The rest of his Monster Energy teammates are also no strangers to Slopestyle medals, including James Woods, Gus Kenworthy and Canada's Alex Beaulieu-Marchand, who took bronze at X Games Aspen 2017.
Also prepare for world-class stunts in Women's Ski Slopestyle, as Maggie Voisin from Montana defends last year's gold medal against a stacked field. A fierce competitor since her teenage years, Voisin took a surprise Slopestyle silver at X Games Aspen 2014 at the age of 15 and has proven a podium favorite over the years. Make sure to keep an eye on Sarah Hoefflin, who closely missed the podium with a 4th place finish at X Games Aspen 2018, as well as next-generation Swiss talent Giulia Tanno and Coline Ballet-Baz who will make her first X Games appearance.
Men's Ski Big Air will be an all-out battle as defending champ Henrik Harlaut is looking to claim his sixth Big Air medal at X Games. But not so fast! Another previous Big Air gold medalist is ready to bring his A-game to Aspen: Great Britain's James Woods, who cut his teeth riding "dry slopes" before exploding on the international freeski scene, had to settle for bronze last year after taking the top spot in 2017.
Over in Women's Ski Big Air, Monster Energy's Sarah Hoefflin is in the hot seat after dominating the field with a gold medal finish last year. After making history as the first woman to land doubles in multiple directions in a ski competition, the native of Geneva, Switzerland also claimed slopestyle gold at the 2018 Winter Olympics in South Korea. She will be joined on the Big Air circuit by teammates Giulia Tanno, Maggie Voisin and Coline Ballet-Baz.
Moving on to motorized snow sports, Monster Energy is making a strong showing in Snowmobile Freestyle as Canadian team rider Brett Turcotte returns after claiming gold in 2018. Previously a dominant SnoCross racer, Turcotte barged onto the freestyle scene by taking a surprise bronze at X Games Aspen 2016 and has steadily upped his game since. His direct competition includes teammate Joe Parsons, the most decorated snowmobiler in X Games history with 17 X Games medals (five gold), who's back with a vengeance after missing the podium last year. And with 11 medals in 12 X Games appearances, his teammate and snowmobile freestyle innovator Heath Frisby is also one to watch in Aspen.
In the high-octane Snowbike Best Trick award, a heavy-hitting blend of seasoned Moto X and snowmobile racers will be bringing aerial stunts otherwise seen on dirt to the snow. Monster Energy's Jackson Strong was firing on all cylinders last year with a silver medal finish and is back for more.
On his dirt bike, "Jacko" also made 2018 a banner year by claiming gold in Moto X Best Trick and silver in Moto X Freestyle at X Games Minneapolis. His teammate and freestyle trailblazer Axell Hodges is looking for his first snowbike medal and will also be competing in the Snow BikeCross event next to Brett Turcotte.
Speaking of Snow BikeCross, prepare for a high-stakes showdown, as Monster Energy's Cody Matechuk is looking for his third podium in a row after winning gold in 2018 and bronze in 2017. Hailing from Cochrane, Canada, the 24-year-old found the perfect combination of racing and snow sports in snow bike riding and has a chance to cement his legacy in the young sport at X Games Aspen 2019.
In the first-ever Para Snow BikeCross at a Winter X Games, snow bike athletes who are not ambulatory will take on the BikeCross course with some modifications to their bikes such as hand control and seat modifications. Favorites include six-time X Games medalist Doug Henry, who claimed silver in Snowmobile SnoCross Adaptive at X Games Aspen 2015 and is bringing decades of racing experience to the new discipline. His Monster Energy teammate Paul Thacker, known for setting several long-distance jump records on snowmobile, took silver in Snowmobile SnoCross Adaptive in 2016 and is looking for his first-ever X Games gold – this could be the year it happens.
Now in its second year, the adrenaline-fueled Harley-Davidson Hill Climb will see riders go head-to-head in racing up the flat bottom of the superpipe course on modified twin cylinder motorcycles. The Monster Energy line-up includes bona fide Harley stuntman Logan Lackey aka "Wheelie Pig" and Moto X freestyle wiz Axell Hodges in what is literally going to be an uphill battle.
Wrapping up an action-packed weekend, official sponsor Jeep will host the Jeep Wrangler X Challenge, in which snow athletes take the all-new Jeep Wrangler SUV to the limit. Putting the pedal to the medal will be Monster Energy motocross athlete Jackson Strong, off-road Jeep pilot Casey Currie, and all-round racing legend Brian Deegan.
Download photos for editorial use.
ESPN, ESPN2 and ABC will televise a combined 15.5 hours of live X Games Aspen 2019 competition, which will also be accessible via the ESPN app and WatchABC to viewers who receive their video subscription from an affiliated provider. In addition, all 15.5 hours of live content, plus exclusive competitions, musical performances and X Games Extra shows will be streamed on the @XGames YouTube, Facebook and Twitter pages.
Visit http://www.monsterenergy.com for exclusive updates from X Games Aspen 2019 including photos, videos, and contest results as they happen. Follow Monster Energy on Facebook, Instagram, Twitter for exclusive behind-the-scenes looks in Aspen
About Monster Energy
Based in Corona, California, Monster Energy is the leading marketer and distributor of energy drinks and alternative beverages. Refusing to acknowledge the traditional, Monster Energy supports the scene and sport. Whether motocross, off-road, NASCAR, MMA, BMX, surf, snowboard, ski, skateboard, or the rock and roll lifestyle, Monster Energy is a brand that believes in authenticity and the core of what its sports, athletes and musicians represent. More than a drink, it's the way of life lived by athletes, sports, bands, believers and fans. See more about Monster Energy including all of its drinks at http://www.monsterenergy.com.