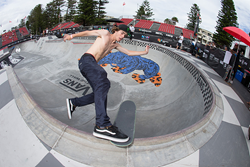 Sydney, Australia (PRWEB) March 06, 2017
Monster Energy congratulates team rider Tom Schaar for taking first place at the Vans Park Series Pro Tour Global Qualifiers in Manly Beach, Australia. Battling frequent rain interruptions and twenty of the world's best park terrain riders, the 17-year-old from Malibu, California, landed a perfect run for his first win at a Vans Skate Park Series event.
Now entering its second year, the Vans Park Series (VPS) attracts hundreds of riders across the globe to compete in ranked events. Competitions are held in some of the world's best skate parks, including Pro Tour stops in São Paulo, Brazil; Malmö, Sweden; and Vancouver, Canada. In September, the season's top-ranking skateboarders will be invited to determine the world's best park skater at the Vans Pro Skate Park Series World Championship in Chicago, Illinois.
Today's event took place on a custom-designed course right on the sands of Manly Beach outside Sydney, Australia, as part of the celebrated Australian Open of Surfing festival. When back-to-back rain interruptions put the contest in jeopardy, winners had to be decided by lightning-round finals.
Schaar covered every angle of the concrete park's various pool corners, banks, and wall rides with technical precision. He started his winning run with a huge contorted stalefish transfer from the deck into the bowl, followed by a large backside 360 air transfer into the spine ramp, huge backside 540 and floating frontside ollie in the deep end, frontside nosegrind and frontside feeble grind in the bowl corner, lien air, backside crail slide and backside air to disaster on the 10.5-foot extension, and a no comply tailslide and massive backside disaster revert for a 90.26 point score.
Also skating hard today, Schaar's Monster Energy teammate Raven Tershey earned 5th place with huge frontside airs covering several feet of the deep pool wall, backside ollie over the spine, frontside ollie on the extension, backside Smith grind through the pool corner, and backside tailslide over the love seat for a 85.6 point final score. The 24-year-old from Santa Cruz, California, is back from a severe shoulder injury and skating the VPS this season pre-seeded as one of the 2017 Tour Wildcards.
Today's win earns Schaar the Australia Global Qualifier title, and also puts him on the top of the leader board for the 2017 Vans Park Series Men's Tour Challenger Rankings. Last season, Schaar advanced all the way to the Vans Skate Park Series World Championship in Malmö, Sweden, but closely missed the final eight.
Known for pushing the boundaries of vertical skateboarding since his early beginnings, Schaar made history in 2012 as the first skateboarder to ever land a 1080 aerial when he was only 12 years old. Since then, he has emerged as a successful competitor. His track record includes trophies for 1st place in the 2014 X Games Big Air event in Austin, Texas, and 1st place at the 2015 Vans Pool Party contest in Orange, California.
Schaar will be competing at upcoming global tour stops, including the Vans Park Series Global Qualifiers at Huntington Beach on July 30, 2017 and X Games Minneapolis, Minnesota from July 13-16, 2017.
For more information on Schaar and the rest of the Monster Energy skateboard team visit http://www.monsterenergy.com. Follow Monster Energy on YouTube, Facebook, Instagram & Twitter.
###
About Monster Energy
Based in Corona, California, Monster Energy is the leading marketer and distributor of energy drinks and alternative beverages. Refusing to acknowledge the traditional, Monster Energy supports the scene and sport. Whether motocross, off-road, NASCAR, MMA, BMX, surf, snowboard, ski, skateboard, or the rock and roll lifestyle, Monster Energy is a brand that believes in authenticity and the core of what its sports, athletes and musicians represent. More than a drink, it's the way of life lived by athletes, sports, bands, believers and fans. See more about Monster Energy including all of its drinks at http://www.monsterenergy.com.