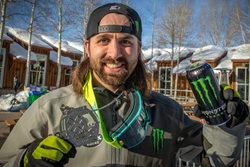 It's blowing my mind that I got second today. I knew it was going to be a battle of attrition this year, with people going down and the quarterpipe being new. I just kind of stuck to my guns and got a good score on that Coyote Indy - Brett Turcotte
Aspen, Colorado (PRWEB) January 30, 2017
In a dramatic final that saw riders attempt their most spectacular aerials, Monster Energy's Brett Turcotte took home the Silver medal on his 29th birthday with a technical backflip variation, joined on the podium by his teammate Joe Parsons winning Bronze.
What a grand finale to an action-packed weekend: As the last official event of X Games Aspen 2017, today's Snowmobile Best Trick competition had the crowd at Buttermilk Mountain in Aspen, Colorado, on its feet.
Under perfect bluebird skies, eight competitors took two runs each to post the highest score on the specially prepared track: The Best Trick course offered riders a choice between an 18-foot-high quarterpipe ramp, a 23-foot high extra steep ramp and two super kicker ramps. Competitors had been working all year on their tricks and some moves attempted today have never been landed before in a competition setting.
In a finals overshadowed by several hard falls, Turcotte kept his composure and landed the perfect combination between high-flying aerial and technical difficulty: His fully extended Coyote Indy – a backflip performed hanging from the handlebar, twisting his body sideways while kicking his feet – earned the Canadian from Kamloops, British Columbia, an 83.33 point score and the Silver medal.
This marks the second trick-riding medal for the former SnoCross racer – after last year's Bronze in Snowmobile Freestyle – and third overall X Games podium. Celebrating his 29th birthday today in Aspen, Turcotte closely ceded the win to Sweden's Daniel Bodin, who pulled an Indy seat grab flip on his last attempt.
Upon winning Silver today, Turcotte said, "It's blowing my mind that I got second today. I knew it was going to be a battle of attrition this year, with people going down and the quarterpipe being new. I just kind of stuck to my guns and got a good score on that Coyote Indy." Having suffered a heavy fall during last night's Snowmobile Freestyle final, he was happy to compete in the first place. "I wasn't even moving off the couch after my wreck last night. But I iced my ribs all night and felt good today. I'm lucky to be walking away from X Games and glad I survived."
Taking the Bronze medal, Turcotte's teammate Parsons battled a new body varial variation – he had to abandon the maneuver mid-air after a less-than-ideal takeoff – but still landed a huge backflip over the centerpiece jump for a 77.66 point score.
"I pretty much just fell into the Bronze medal by default. I wasn't able to do what I wanted to do," said Parsons, adding: "My stomach was in knots all day anticipating Heath's double backflip. My head wasn't in it today, I couldn't pull it off."
Today's Bronze is Parsons' 17th career X Games medal – after winning Gold in yesterday's Snowmobile Freestyle final – making him the most decorated snowmobiler in X Games history. The 29-year-old from Yakima, Washington, also currently holds the second-most X Games winter event medals and regularly trains new moves together with Monster teammates Heath Frisby and Cory Davis on a foam pit at his home.
The tremendous risk involved in today's stunts became apparent when Monster Energy's Frisby attempted a double backflip, a move never before landed in competition. Launching from the specifically designed ramp – built with a 67-degree incline to support maximum backward rotation – the three-time X Games gold medalist from Middleton, Idaho, fully committed to the double spin. But as his 450 lb. snowmobile under-rotated, Frisby touched down before completing the second spin and was thrown off upon impact. Fortunately, the 32-year-old walked away from the crash unscathed.
Thank you for following the Monster Energy team at X Games Aspen 2017. For more visit http://www.monsterenergy.com and Monster Energy Facebook to score all the exclusive updates and recaps from X Games Aspen 2017 including photos, videos, and contest results. Follow us on Instagram and Twitter and search #UnleashedAtX for exclusive behind-the-scenes looks in Aspen.
###
About Monster Energy
Based in Corona, California, Monster Energy is the leading marketer and distributor of energy drinks and alternative beverages. Refusing to acknowledge the traditional, Monster Energy supports the scene and sport. Whether motocross, off-road, NASCAR, MMA, BMX, surf, snowboard, ski, skateboard, or the rock and roll lifestyle, Monster Energy is a brand that believes in authenticity and the core of what its sports, athletes and musicians represent. More than a drink, it's the way of life lived by athletes, sports, bands, believers and fans. See more about Monster Energy including all of its drinks at http://www.monsterenergy.com.