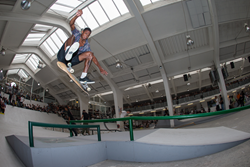 Copenhagen, Denmark (PRWEB) July 24, 2017
Monster Energy congratulates team rider Ishod Wair for taking first place in the professional street skateboarding competition at the 2017 CPH Open in Copenhagen, Denmark.Today's street contest at Copenhagen Skatepark marked the grand finale of the annual festival known as "The Champagne of Skateboarding." In front of a high-energy crowd, the 25-year-old from Bordentown, New Jersey took the top spot in a roster stacked with the world's leading street pros, hailing from places like Brazil, Australia, Canada, all across Europe and the United States. Wair's Monster Energy teammates Rune Glifberg and Raven Tershy, claimed second and third place, respectively, in Wednesday's Pro Bowl contest.
Widely regarded as one of the world's most authentic skateboarding events, the CPH Open is a four-day spectacle attracting the best skateboarders from across the globe to the Danish capital every year. A real "skater's contest" that no pro wants to miss, CPH Open combines best trick sessions at the city's epic street spots with big-ticket contests such as the Faelledparken Pro Bowl event and today's street contest.
Energy levels were high for the street final at Copenhagen's state-of-the-art indoor skate park. Cheered on by the enthusiastic crowd as well as his peers, Wair put together a flawless run featuring frontside feeble grind the long rail, huge nollie heelflip over the kicker into flat, backside overcrook down the big rail, frontside nosebone air on the quarterpipe, frontside kickflip to fakie over the hip, one-footed ollie blunt on the quarter pipe, nollie inward heelflip over the hip, and 360 kickflip to fakie on the quarter for the win.
The street contest, followed by a barrel jump and "death race" around the park, capped off one of the most action-packed editions of the CPH Open since its inception in 2007. This year's cash-for-tricks events, also serving as qualifiers for the street finals, drew large crowds across the city at locations such as the Triangle, Planetarium, and Meat Packing District.
At the Faelledparken Pro Bowl competition on Wednesday, Monster Energy teamrider and Copenhagen local Glifberg took second place by covering the winding vertical bowl landscape with highlights including tailgrab gay twist in the deep end, backside lipslide backside Smith grind in the over-vert section, and high-flying frontside nosebone airs. His teammate Tershy stoked the crowd with a never-been-done ollie transfer from the top of the over-vert section into the vert bowl below, followed by stand-up 5-0 grind around the corner, huge Indy air in the deep end, tweaked frontside air, and backside nosegrind tailgrab over the hip for third place.
At Saturday's Planetariat best trick session on a picnic table, Monster Energy's Matt Berger took second place. In the Street final, Berger also brought out his signature technical moves such as bigflip to frontside boardslide fakie the long rail and closely missed a podium spot next to this year's winner, Wair.
Wair is known for attacking any type of terrain – from streets, to bowls, to skate parks – with effortless style. A real "skater's skater," he is the winner of Thrasher magazine's coveted Skater of the Year award (2013). His approach to skating in competitions is spontaneous and unpredictable – but when he's on, he's on. Although he's not a regular on contest podiums like his teammate Nyjah Huston, Wair's earned a bronze medal in Street at last year's X Games Austin and several top three finishes in Street League Skateboarding competitions, including third place in 2014's SLS Nike SB Super Crown World Championship in his home state, New Jersey.
For more Monster Energy skateboarding make sure to catch Ishod Wair, Nyjah Huston, Chris Cole, Kyle Walker and Matt Berger compete in Stop Two of the 2017 SLS Nike SB Super Crown World Championship at UIC Pavilion in Chicago on August 13. They are battling for SLS Championship points and the last chance to win a Golden Ticket straight to the SLS Nike SB Super Crown World Championship in Los Angeles on September 15, 2017. Stay tuned!
Find more information on http://www.monsterenergy.com and make sure to follow Monster Energy's Facebook, Instagram & Twitter for exclusive updates.
Download High Res Photos Here.
###
About Monster Energy
Based in Corona, California, Monster Energy is the leading marketer and distributor of energy drinks and alternative beverages. Refusing to acknowledge the traditional, Monster Energy supports the scene and sport. Whether motocross, off-road, NASCAR, MMA, BMX, surf, snowboard, ski, skateboard, or the rock and roll lifestyle, Monster Energy is a brand that believes in authenticity and the core of what its sports, athletes and musicians represent. More than a drink, it's the way of life lived by athletes, sports, bands, believers and fans. See more about Monster Energy including all of its drinks at http://www.monsterenergy.com.