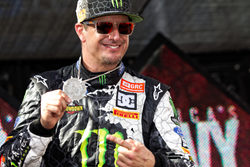 Austin, Texas (PRWEB) May 28, 2014
Officially sponsoring X Games for the first year, Monster Energy proudly announces its team of athletes headed to Texas next week for X Games Austin 2014. With four days of competition ahead, the Monster Energy team is ready to unleash.
For the first time, Austin will serve as the host city for X Games as it moves to a new location from Los Angeles. X Games has an incredible weekend in store, seamlessly blending competition across skate, BMX, Moto X, and Rally disciplines with entertainment and music from world-class artists.
Ready for Austin, the Monster Energy team is stacked with a large number of athletes earning coveted invites. Visit monsterenergy.com for a full list of invitees—key athletes and events to watch out for include:
Pierre Luc Gagnon, owner of an incredible 20 medals thus far in Skateboard Vert (eight Gold, ten Silver, two Bronze), will be out for the win. After fighting through a knee injury in 2013, he's been training harder than ever on the Monster Energy vert ramp and will be looking to add to his already legendary medal count.
In Skateboard Street, Nyjah Huston will once again be the one to beat. Last year he took three X Games golds, and even outside of X Games he's lethal. In fact, he's won more prize money in skateboarding competition than anyone else in history. A skateboarder who's certainly capable of replacing Huston at the top of the podium is his Monster Energy teammate, Ishod Wair. One of the most exciting street skateboarders, Wair is the reigning Thrasher Skater of the Year thanks to a huge 2013, including four epic video parts.
Curren Caples will be gunning for the podium in both Skateboard Park and Skateboard Street. Recently turning pro for Flip, he's an exceptional well-rounded skateboarder who can skate anything, but excels in the park. He upset the field by taking Park gold at X Games Munich 2013, and now that he's pro with even more experience under his belt, expect big things from this 18-year old.
Jamie Bestwick, the unquestionable king of BMX vert, will be ready for more gold as the event makes its return to X after a short hiatus. He's won every X Games Vert event since 2007, meaning he's won more consecutive gold medals than anyone in X Games history (eight).
Loaded with raw talent, Kyle Baldock from Australia will be hungry, invited to compete in both BMX Park and BMX Dirt. He's more than capable: he came out of nowhere and won BMX Park and BMX Dirt at X Games Foz do Iguacu just last year.
In Moto X Freestyle, Taka Higashino will be coming in hot off of three straight X Games wins, including gold medals at X Games LA 2012, X Games Foz do Iguacu 2013, and X Games LA 2013. Look for his incredible rock solid backflip—when combined with the rest of his gnarly run, it's a trick that means huge points.
Jeremy "Twitch" Stenberg may be the one to beat in Moto X Best Whip. A fan favorite and legend in moto freestyle, he's always pushing it with his signature batch of smooth, flowing whips. He's won five X Games golds, including one just last year at X Games Foz do Iguacu 2013.
Nate Adams will join his teammates as he goes for the podium in Moto X Freestyle and Moto X Best Whip, and also compete in Moto X Speed & Style. He took Speed & Style gold plus Freestyle bronze last year in LA. The reigning Moto X medal count leader, Adams has an incredible 16 medals in his trophy case.
In Rallycross, look out for Monster Energy's Liam Doran. A driver that's always exciting and somehow overcoming huge obstacles like mid-race flat tires, he's got two X Games golds to his credit, including one recently at X Games Munich 2013. He will be joined on the track by teammate Ken Block. The inventor and driver behind the famous Gymkhana video series and Gymkhana Grid competition, Block's been a podium threat for years and has chalked up multiple medals, but will be hungry for his first gold in Austin.
Check out http://www.monsterenergy.com and http://facebook.com/monsterenergy next week to catch exclusive updates from X Games Austin 2014. The sites will be loaded throughout the event with exclusive photos, videos, behind the scenes coverage, and contest results as they happen.
About Monster Beverage Corporation:
Based in Corona, California, Monster Beverage Corporation is the leading marketer and distributor of energy drinks and alternative beverages. Refusing to acknowledge the traditional, Monster Beverage Corporation supports the scene and sport. Whether motocross, off-road, NASCAR, BMX, surf, snowboard, ski, skateboard, or the rock and roll lifestyle, Monster is a brand that believes in authenticity and the core of what its sports, athletes and musicians represent. More than a drink, it's the way of life lived by athletes, sports, bands, believers and fans. See more about Monster Beverage Corporation including all of its drinks at http://www.monsterenergy.com.