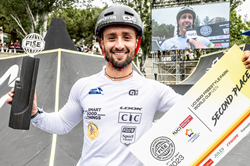 MONTPELLIER, France (PRWEB) May 22, 2023
Unleash the Beast in France! Monster Energy congratulates team rider Anthony Jeanjean on taking second place in the BMX Freestyle Park competition at the FISE Montpellier 2023 festival in France. In front of a stoked crowd, the 24-year-old Olympic athlete from Béziers, France, secured his podium spot in the competition sanctioned as a UCI BMX Freestyle World Cup on Saturday.
In Sunday's BMX Park Best Trick contest, 28-year-old Kevin Peraza from Tucson, Arizona, stomped a massive technical trick to claim second place in an elite field.
From May 17-21, FISE (Le Festival International des Sports Extrêmes) returned to Montpellier by the River Lez with a stacked roster of action sports events. Started in 1997, every year, the competition attracts close to 2000 athletes competing in BMX Freestyle Park, BMX Flatland, Skateboarding, Scooter, Parkours, Breakdance, and more disciplines.
In Saturday's BMX Park Final, an elite roster of 24 riders competed on the obstacle course designed and built by expert park creators Hurricane. The stakes were high: Riders not only had a chance to score points for the FISE World Series but also the UCI BMX Freestyle World Cup, as well as Olympic qualifiers for Paris 2024.
Monster Energy's Jeanjean dropped into the competition as a strong contender after recently finishing the BMX World Championships in third place. Facing heat from Australia's Logan Martin, Jeanjean unleashed a perfect run cheered on by the vibrant hometown crowd.
On his second run, Jeanjean put together huge tricks such as a huge 720 over the spine, triple tailwhip transfer, no-hander on the quarterpipe, barspin to no-hander transfer, flair over the channel, massive double tailwhip transfer, and 360 triple whip on the step-up. The judges awarded the crowd favorite a score of 91.80 points for a strong second-place finish.
Jeanjean started riding BMX in Montpellier at the young age of 10 and has evolved into one of the most competitive riders on the circuit: He is a three-time BMX European Champion and also won the French national BMX Championships four times. In 2021, he represented France in the Tokyo Olympics.
Sunday's BMX Park Best Trick contest was the time to shine for 28-year-old Kevin Peraza from Tucson, Arizona. After finishing the BMX Park competition outside a podium spot, the five-time X Games medalist saved the best for last.
In front of a hyped crowd, Peraza unleashed an absolute beast of a trick: Hitting the massive centerpiece kicker at full speed, Peraza sent a sideways spinning 540 aerial to fakie all the way over the obstacle and into a perfect landing on flat. The crowd went wild, and the judges awarded Peraza second place in the highly competitive field.
For more on Anthony Jeanjean, Kevin Peraza, and the Monster Energy BMX and Skate teams, visit http://www.monsterenergy.com. Follow Monster Energy on YouTube, Facebook, Instagram, Twitter and TikTok for exclusive updates as the BMX season continues.
###
About Monster Energy
Based in Corona, California, Monster Energy is the leading marketer of energy drinks and alternative beverages. Refusing to acknowledge the traditional, Monster Energy supports the scene and sport. Whether motocross, off-road, NASCAR, MMA, BMX, surf, snowboard, ski, skateboard, or the rock and roll lifestyle, Monster Energy is a brand that believes in authenticity and the core of what its sports, athletes, and musicians represent. More than a drink, it's the way of life lived by athletes, sports, bands, believers, and fans. See more about Monster Energy including all of its drinks at http://www.monsterenergy.com.