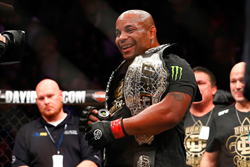 It's history, baby! I think a lot of people have to understand, I've been doing this for nine years. I've fought at the championship level for eight of them. There are no surprises with me. If you have a puncher's chance, that's not enough. You have to be one of the best in the world - Cormier
NEW YORK (PRWEB) November 05, 2018
Monster Energy's reigning UFC heavyweight champion Daniel Cormier yet again cemented his legacy in UFC history on Saturday when he retained his UFC heavyweight title against Derrick Lewis in the main event of UFC 230 at Madison Square Garden in New York.
Cormier(22-1) became the first fighter in UFC history to officially hold two titles simultaneously, and successfully defend both. He made quick work of Lewis (21-6), submitting him in the second round via rear-naked choke at two minutes, 14 seconds, which hardly seemed to be a competitive affair.
Lewis started off strong peppering Cormier with hard low kicks from range until Cormier secured an somewhat easy takedown, following it up with a barrage of ground and pound. When Lewis finally got back up, Cormier mercilessly dragged him back down with another single-leg shot.
For the second round Lewis landed a few heavy strikes in the early moments, but Cormier leveraged his Olympic-level wrestling skills and bottomless gas tank to tire out Lewis and quickly finish him off. He did this with yet another takedown, deftly taking Lewis' back while sliding his forearm under his throat, and forcing the tap out. With this, Cormier became the first fighter in UFC history to defend both the Light Heavyweight and Heavyweight titles.
It's history, baby," said Cormier. "I think a lot of people have to understand, I've been doing this for nine years. I've fought at the championship level for eight of them. There are no surprises with me. If you have a puncher's chance, that's not enough. You have to be one of the best in the world to even compete."
Saturday's victory will keep a planned match up against WWE superstar Brock Lesnar on the books for early 2019.
Daniel Cormier, is amongst Monster Energy's elite UFC team along with Conor "The Notorious" McGregor, Donald "Cowboy" Cerrone, Dominick "Dominator" Cruz, Chris 'The All American' Weidman, Tyron "The Chosen One" Woodley, Max Holloway, Yair Rodriquez, Jessica-Rose Clark, Li Jingliang, Gökhan Saki and Rose Namajunas.
For more on Cormier and Monster Energy's MMA athletes visit http://www.monsterenergy.com. Follow Monster Energy on YouTube, Facebook, Instagram and Twitter.
###